Kamehameha Schools Molokai Grads
Kamehameha Schools News Release
Congratulations to the Molokai Class of 2013 Graduates of Kamehameha Schools Kapalama Campus.  Commencement exercises were held on Sunday, May 26 at the Neil Blaisdell Arena.  Molokai was represented with 16 graduates who lived as boarders on campus, some entering as seventh graders and some as ninth graders.
Graduates include Mika Lindo, Poki`i Apiki, Kiaka Lima-Mollena, `Ioane Teves, Namakana Pa-Kala, Houston Hiro, Crysten Kalua, Briann Young, Dara Naeole, Lisa Dudoit, Keolewa Puhi, Nanea Manangan, `Olana Chow, Kawaipuna Kalipi, Ka`ulu Apuna and Railyn Young.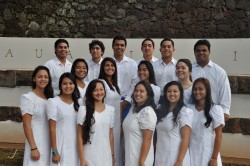 Congratulations, graduates, on your accomplishments and especially for your dedication and commitment to your education while living away from home all these years.