Kamali`i Kane
Community Contributed
By Royden Abafo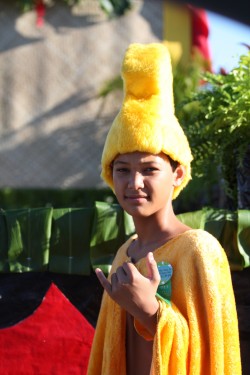 Editor's Note: Royden, a middle school student at Aka`ula School, originally wrote this in the school's Oct. 25 newsletter. It is reprinted in its entirety here.
"Ladies and gentlemen, your new Kamalii Kane 2013, Royden Kohuali'imaikekahi Abafo." During the Aloha Week Festival, I was the prince in the Royal Court. It wasn't really that easy to walk and stand up in front of the public. I was presented with a yellow cape and a yellow helmet by the king. The whole court had to sit down for two and a half hours straight without talking, laughing, drinking or eating. It was very hard for me.
The second night, it was only about the princess and the prince and that was my cousin, Acey Ulalia Reyes, and myself. It was more like a casual night. We could eat, drink, laugh, and clap for the entertainment. I didn't have to use my cape or helmet. My cousin had to use a dress with yellow flower lei. I had to use black slacks and Aloha print shirt.
Finally, the last day was the parade. The court had to dress up in their dresses, capes and helmets. We had to be as serious as we could just like the first night. We had to stay on the float and let everyone pass by. We couldn't move around. When we finally got off the float, my legs were locked and cramped up. It was a really fun week for me. If I could do this again, I would take that chance.