Kalaupapa Works to Prevent Wildfires
It's wildfire season and in Kalaupapa, the National Park Service (NPS) is doing everything it can to prevent them. They plan to clear about 20 acres of highly flammable brush in August, targeting invasive species like Christmas berry, lantana and java plum within 100 feet of structures. Native plants and other historical trees will be preserved. The project marks the first brush removal from the settlement in 100 years.
Kalaupapa National Historical Park (KNHP) Superintendent Steve Prokop, Terrestrial Ecologist Paul Hosten and Recycling Supervisor Arthur Ainoa announced the project during the monthly Kalaupapa settlement community meeting last week. Residents responded positively to the proposal, and NPS green-lighted money in its budget for it to move forward, Hosten said.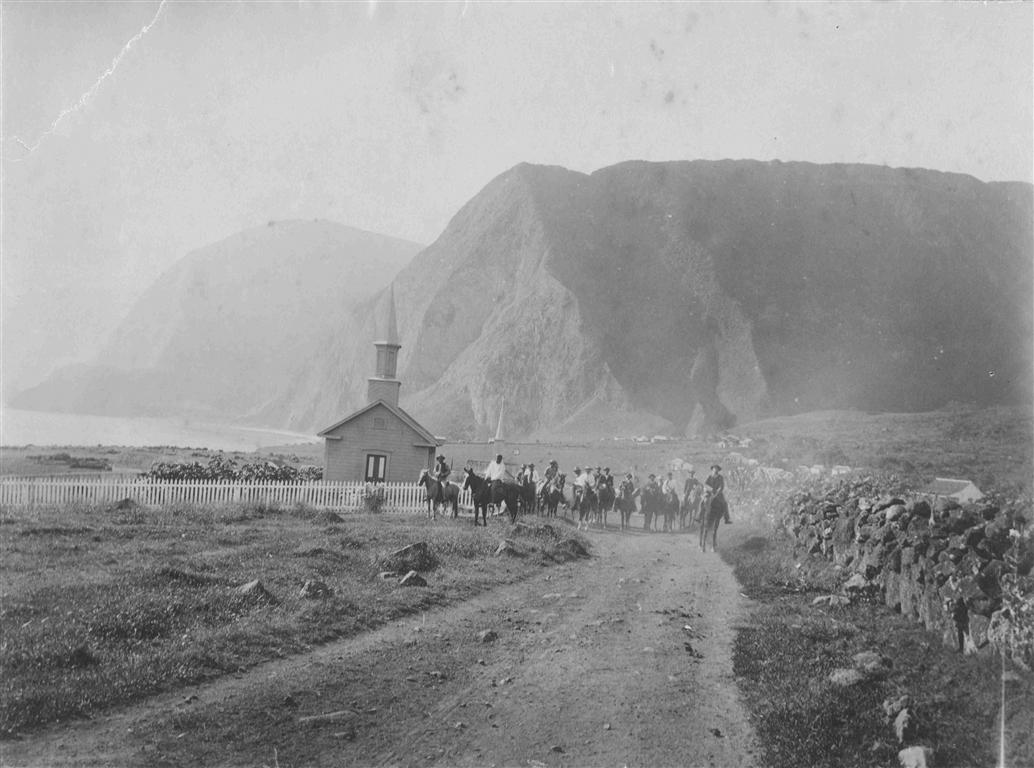 "If it ever catches on fire nobody's gonna be able to control it in the wild areas," Garnett said. "The wind is so strong by the time any fire department could show up … they would just be kind of mopping up."
Logistics
A vegetation management crew of about 10 to 14 members flew in from Hawaii Volcanoes National Park will work alongside KNHP staff to remove the plants with chainsaws, Hosten said. Brush will be chipped on site and used for various purposes throughout the settlement.
Hosten said he expects work to run from August 8 to 19. While he estimates about 20 acres will be cleared, that number could fluctuate and will help determine the total cost of the project.
The need for wildfire prevention activities comes from "a realization that the fuels have just accumulated tremendously across the peninsula and across the settlement" during the past 100 years, Hosten said.
Growth was particularly rapid in the past 20 years, he added. Cattle previously snapped branches and flattened vegetation with their large bodies and heavy hooves. But after a 1980s outbreak of the bacterial disease brucellosis forced an island-wide cattle culling, the animals were never reinstated in Kalaupapa, allowing the plants' unchecked growth.
The invasive species were mostly brought to Hawaii during territorial times in the early 1900s, according to Garnett. They have no natural enemies here, which further accelerates their takeover.
Preserving the Native and Historical
In addition to NPS's top priority of protecting residents, Hosten said NPS also wants to prevent fire from destroying the settlement's historic structures and graves, and protect native plants from being overtaken by the invasive species.
"Not only do these shrubs and trees threaten the lives of residents, they're also crowding out old plantings of fruit trees and ornamental shrubs, and those help tell the history of … the settlement," he said.
Marks stressed that it's important to make sure valued trees are not cut down. NPS staff will work with community members in the field to tag trees with blue trees for removal and orange trees to remain untouched, Hosten said.
Marks added she hopes NPS will adopt the Polynesian tradition of planting new trees in place of ones they remove – something that Hosten said NPS plans to do. To choose the trees, staff consider environmental conditions like rainfall and elevation, availability of irrigation, and maintenance needed for the area, Hosten said; he's already suggested native species like ohe makai and wili wili because of their ability to thrive in dry places.
Garnett said working toward preventing wildfires is an important step in the right direction, but said he hopes KNHP will look into additional safety procedures like a seawater pump in case a fire starts regardless of these measures. While Kalaupapa has 12 certified wildland fire fighters and maintains a water sprinkler system around the settlement, if they're forced to use their fire hydrants, "it will be minutes, not hours" before they run out of water, he said.
For now, though, KNHP is focusing on creating the defensible spaces. Hosten said the project, which will include collaboration by several divisions within KNHP, should provide long-term benefits for Kalaupapa, including the creation of several jobs. NPS has been advertising for positions via USAJOBS and throughout top-side to train people alongside Volcanoes National Park workers so they can maintain the low-fuel areas.
"Everybody in the park is really working together on this," he said.