Kalaupapa Trail Closed
Frailty of trail tested by mudslide.
Access by foot and hoof to Kalaupapa has been temporarily cut off, after a mudslide caused extensive damage to a bridge on the pali trail leading to the settlement.
On April 13, the National Park Service (NPS) closed the trail to all visitors and mule rides until repairs are made – which could take up to several weeks. In the meantime, Kalaupapa remains accessible by plane or boat.
"The highest priority of the NPS is the design of a new bridge and to get it constructed as soon as possible," said Stephen Prokop, NPS superintendent. Structural engineers were brought in to assess the situation last week, while workers scrambled to make temporary repairs for an emergency access route.
Park officials attributed the wiped-out section – switchback bridge No. 3 – of the trail to a week of heavy rains. Prokop said the bridge itself, only a few hundred yards from the top of the steep, narrow trail, was in sound condition. The loose soils that support it, however, are highly susceptible to slippage, and severed access to the Hansen's Disease settlement.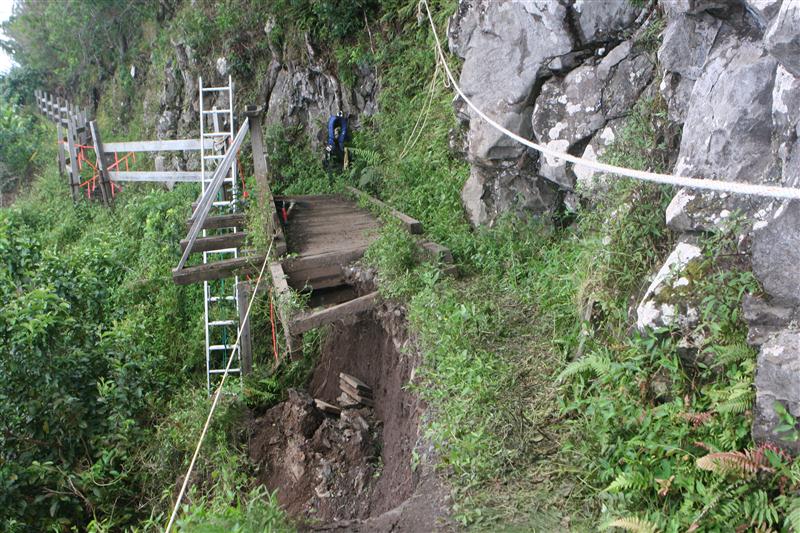 got to eat, I got to pay rent and insurance. That money comes from our profit."
Despite the inconvenience, Horner is still booking charter air flights for visitors four days a week, and continues to work closely with Gloria Marks, owner of Damien Tours, to keep the guided bus tours up and running.
Currently, round-trip charter flights, provided by Pacific Wings, from topside Molokai to Kalaupapa are around $500, a considerable increase from the previous $100 rates.
Marks added it's "really tough" on everyone, especially with unaffordable airfare.
"It makes things kind of rough," she said. "If there are no more tourists, then the workers won't get paid."
Amid unfavorable circumstances, Prokop is optimistic the tours will wade through the next few weeks and keep the demand going.