Kalaupapa Post Office Extends Hours
When the Kalaupapa post office wasn't shut down last year, the small, isolated community considered it a big victory. The patients and staff at the former Hansen's Disease settlement recently celebrated again as they learned their post office – a vital communication lifeline for the area – will extend its operating time by two hours a day, a rare deal in this unstable time for the United States Postal Service (USPS)
Patients and employees voted at last Tuesday's community meeting for the post office to be opened 6 a.m. until 12 p.m., which will allow them to bring by last minute mail before the plane comes at 7 a.m.
USPS Spokesperson Duke Gonzales explained the additional hours are a result of the post pffice Structure Plan (POSt Plan), which assessed over 17,000 rural post offices with the least retail revenue and lowest earned work load. Qualifying post offices would reduce hours to two, four or six hours a day of service, depending on work load or need. However, an intentional loophole allowed Kalaupapa to extend its post office's hours instead of losing any.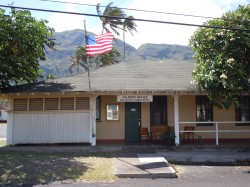 "One exception to the rule outlined in the plan was that post offices located 25 driving miles or more away from another post office would be operational for six hours per day regardless of workload and regardless of previous hours of operation," Gonzales said.
There are no driving roads to Kalaupapa, so the settlement's patients and employees receive mail via airplane. The only alternative to flying is taking the cliff trail, which is over three miles of steep switchbacks, by foot or by mule. This means Kalaupapa post office qualifies for increased hours under the exception.
Mark Miller, U.S. Department of Health administrator at Kalaupapa, said this comes after a struggle to keep their source of mail from shutting down completely.
"The post office was to close two years ago, but a letter-writing campaign and the good works of the late Senator Daniel Inouye helped to keep it open, but with reduced hours," Miller said. "Now word comes that as soon as this summer, the post office will be opened longer and continue to include a six-day a week service."
Many rural post offices across the nation were at risk of closing, but Gonzales said after thousands of community meetings, USPS revised the POSt Plan to keep them open.
He said twelve post offices on Hawaii Island, Molokai, Oahu and Kauai were reviewed under the POSt Plan, and Kalaupapa was the only one of those to gain hours of operation.
"For the vast majority of the 17,000 rural post offices reviewed nationwide, the end result was a reduction in hours of operation," Gonzales said.