Kalaupapa Exhibit at St. Damien Church
Ka `Ohana O Kalaupapa News Release
A historical exhibit developed by Ka `Ohana O Kalaupapa opened this week at Saint Damien Church in Kaunakakai, where it will remain through Feb. 3. The exhibit, "A Source of Light, Constant and Never-Fading," emphasizes the strong relationship between the people of Kalaupapa and the Royal Family of Hawaii, a chapter of the history of Kalaupapa not often told.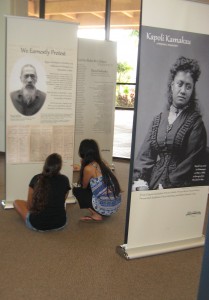 A presentation about the work of the `Ohana in reconnecting families to their Kalaupapa ancestors will be held Thursday, Jan. 10 beginning at 6 p.m. at the church. Light pupus will be served. The public is welcome. Exhibit hours are 3 to 6 p.m. Tuesdays through Fridays, 11 a.m. to 4 p.m. on Saturdays, and after Mass on Saturday evenings and Sunday mornings.
Between 1866 and 1969, an estimated 8,000 people were taken from their families and places of their birth and sent to Kalaupapa because of Hawaii's leprosy isolation policies. About 5,200 of these individuals were sent to Kalaupapa prior to the Annexation of Hawaii by the U.S., approximately 97 percent of whom were Native Hawaiian.
Members of the Royal Family were deeply moved by the situation facing so many of their "beloved people" who were sick. They visited Kalaupapa, read petitions, wrote letters, mourned friends who had been taken from their midst and did what they could to make life better for those afflicted with the disease. Leprosy was not an abstract problem, but a very real presence in their lives.
At the same time, the people of Kalaupapa were a source of inspiration. Their letters, actions, songs and poetry reflected a deep love for their country and those who they looked to for support in their attempts to find justice and hope.
The exhibit contains historical and contemporary photographs, excerpts from letters and petitions from the people of Kalaupapa together with the words of members of the Royal Family. Among them are diary entries from Queen Lili`uokalani when one of her close friends, Kapoli Kamakau, was sent to Kalaupapa. Many of the letters were originally written in Hawaiian. There are also panels devoted to the deep bonds that Father Damien and Mother Marianne – both now Saints – formed with the people of Kalaupapa and the Royal Family.
Ka `Ohana O Kalaupapa is a nonprofit organization dedicated to honoring and remembering every individual who was sent to Kalaupapa. The `Ohana encourages teachers, students and anyone with an interest in this important history to visit the exhibit.
For more information on days and times the exhibit will be open, phone Saint Damien Church at 553-5220.