Kalaupapa Courage Recognized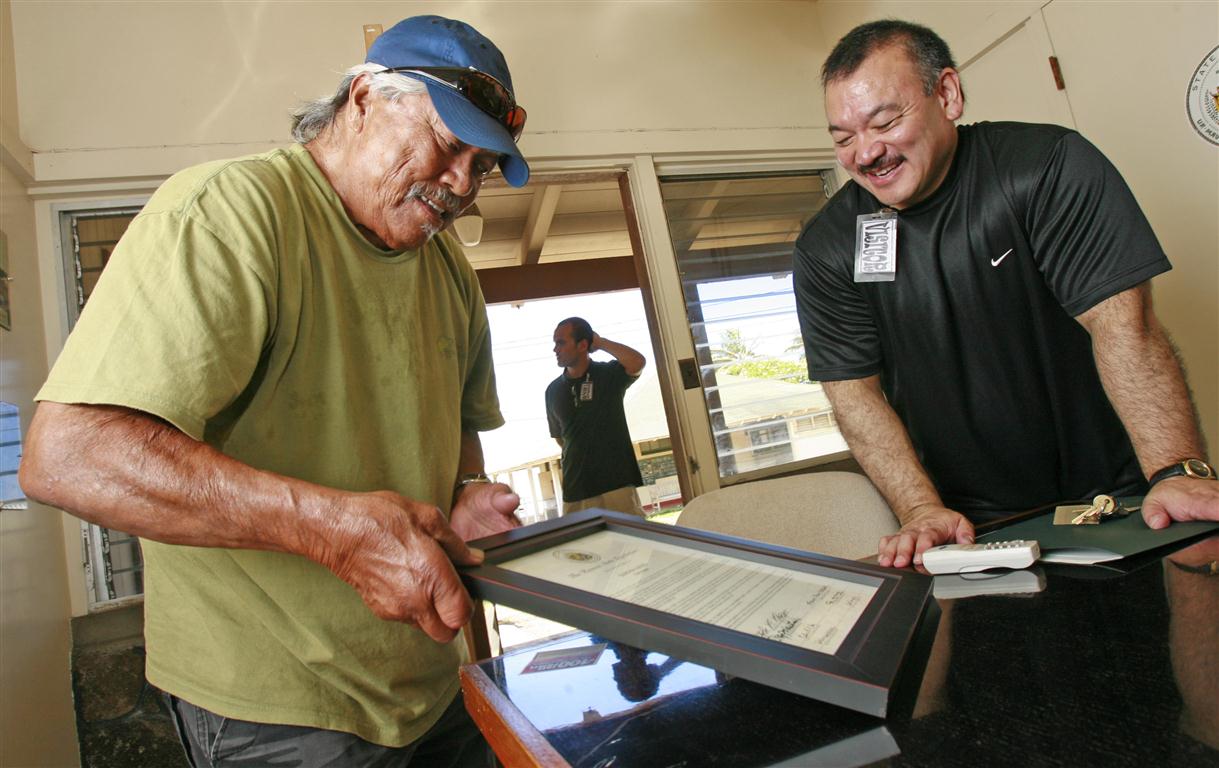 In the face of great injustice, they lived exemplary lives – and for that, the patient-residents of Kalaupapa were individually honored last week with certificates from Hawaii's state legislature. Mounted on plaques, the certificates honored the patients' lives and apologized for their mistreatment.
An estimated 8,000 Hansen's disease patients were abruptly taken from their families to live on the peninsula in forced isolation from 1866 to 1969. They were nevertheless "remarkably resilient and have responded to their plight with kindness, generosity, and forgiveness rather than anger, bitterness, and despair," the plaques read in part.
House Representatives John Mizuno and Faye Hanohano spearheaded the resolution to individually honor the patient-residents and conducted the ceremony at McVeigh Hall last Tuesday. A total of 17 former patients in the state received plaques, including those currently living outside Kalaupapa.
"Thank you very much," patient-resident Gloria Marks told them when she received her plaque. She was one of five Kalaupapa patient-residents who accepted her plaque in person on Tuesday.
Clarence "Boogie" Kahilihiwa, also expressed his appreciation of the honoring.
"It's nice to get recognized," he said after the ceremony.
The certificates also recognized Senate Concurrent Resolution No. 208. The resolution was passed in 2008 as the government's first official apology to the residents of Kalaupapa for their exile. They made note, too, of Saint Damien de Veuster, who spent his life in the settlement.
The patient-residents are "living remnants of the history of Kalaupapa," Mizuno said after the ceremony. He and Hanohano began discussing ways to acknowledge their lives individually around March, he said.
"This may be the last opportunity to thank them and apologize," Mizuno said. "It's very important as we're getting to the end of a chapter."
Mark Miller, the Department of Health administrator for the Kalaupapa settlement, said he found out about the representatives' visit about two days before they arrived. He and the patients were unsure what was to be presented until the meeting actually happened, he said.
"It was getting time we recognized the circumstances surrounding the patients' involvement with having to stay here," he said of the plaques. "It's a good thing."