Kalaupapa Celebrates New Air Service
As Makani Kai Air Charter's nine-seat plane shook in unusually strong winds last Tuesday, Father Ambrose Sanar of St. Francis Church in Kalaupapa asked for blessings on the company's aircraft and its future flights to the settlement. Residents beamed with joy, held each others' hands and hugged officials in gratitude.
The blessing was an opportunity to celebrate Makani Kai's service to the peninsula, which officially began on Dec. 10. The company was awarded federal funding to provide regular service to Kalaupapa, allowing it to offer flights at a fraction of the cost of the $500 round trip fare on Pacific Wings.
"The most important thing [Makani Kai] gives us is freedom, which we didn't have for a long time" said Department of Health Kalaupapa Administrator Mark Miller.
Makani Kai owner Richard Schuman described the celebration as a "special day."
"It was the community's effort that made this possible, I'm just an instrument… I'm proud to be a part of this community," he said.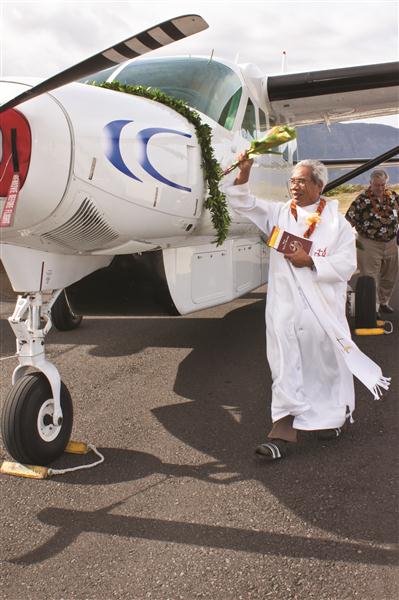 A representative of Sen. Dan Inouye said Inouye heard about the air service problem from patients when he visited the settlement in 2010. "It was because of the patients we have the change we have today," he added.
Patient resident Ivy Kahilihiwa said she feels more relaxed now that she can leave the settlement more easily. "You cannot do nothing, you gotta pay the price," she said of the previous air service. "It wasn't right."
Miller said in a 10-day period starting Dec. 10 when Makani Kai began service to Kalaupapa, the company flew 201 people into or out of the settlement. During the same period from Dec. 10 to Dec. 20 two years ago, Pacific Wings served only 40 people.