The Kalaupapa Canoe Project Takes Shape
Community Contributed
By Michael Neubauer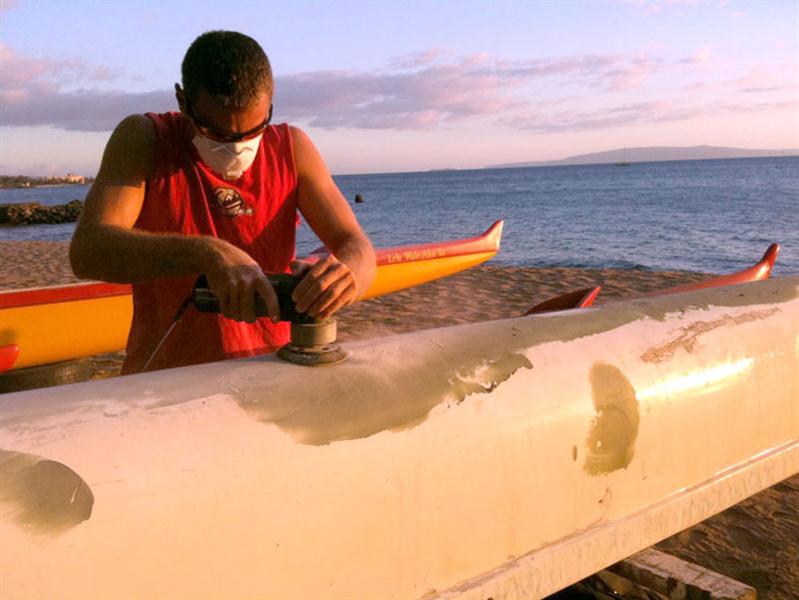 Just about any given day around 5 p.m. or so, you can catch Michael Neubauer and Kevin Gavagan working hard to restore an old Hawaiian canoe at Kihei Canoe Club. The boat, which was donated to The Earth Trot Project, a Maui-based nonprofit organization, is being repaired for a journey that will take it from Maui to the secluded peninsula of Kalaupapa, Molokai.
Michael, Kevin and other volunteers have been working hard to revive the old outrigger, named Kamali`i. Sanding down the hull, reshaping the nose and gunnels, filling pukas and reinforcing some of the weathered parts of the boat have made for a long process for the volunteers from The Earth Trot Project. When finished, they're planning to paddle Kamali`i over to Kalaupapa in October. Once there, the canoe will be given to the people of the settlement as a significant Hawaiian cultural gift.
"We're trying to do what is pono," Michael said. "Kalaupapa is one of the most significant places in Hawaiian culture. It's really a paradox in a sense. You've got one of the most beautiful and pristine places on Earth, and yet a great overwhelming somberness hangs in the air. In many ways the peninsula still feels like a prison."
Residents and workers in the area agree. This past spring heavy rains eroded the pali trail leading down to Kalaupapa and traversing it has become increasingly difficult. If that wasn't bad enough, passenger airlines flying into the settlement raised their rates to over $250 for the ten minute flight to topside Molokai.
"The gift of the wa`a is one we hope helps to rejuvenate a bit of Hawaiian culture that has been lost in Kalaupapa. Right now the area doesn't have a canoe, and to a voyaging people like the Hawaiians, that's just not right," Michael said. "Whether it's used recreationally, for sport, or not at all, we feel the people of Kalaupapa are entitled to have that symbol of Hawaiian culture on their land."

For more information, or to follow this project, please visit EarthTrot.org.