Kalaupapa Bar Celebrates 10 Years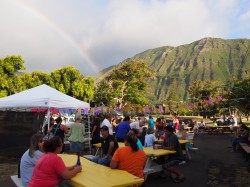 Last weekend, a street in Kalaupapa was closed for the second block party in the settlement's history. A decade ago, Kalaupapa patient resident Gloria Marks bought the settlement's only bar, and last Friday, the 100-resident community came out to celebrate the business' 10th anniversary. It was Marks who also hosted the settlement's first block party for the bar's firth anniversary in 2008.
"Ten years is good but I have to make it another 10!" said Marks, Kalaupapa's only business owner. Marks also runs Damien Tours, which is nearing its 50th anniversary.
Called Fuesaina's Bar, Marks' business stocks more than 10 varieties of beer, and some wine as well. A popular community gathering spot, the bar gave away nearly 200 free drinks during a celebratory happy hour Friday evening.
In planning the event, Marks said she asked settlement officials if she could close the road for a block party.
"It never hurts to ask," she laughed. They said yes.
And so, with colorful banners, dozens of lucky number prizes, games, a photobooth, dinner and a desert contest, residents gathered together for good company, drinks and laughter in the middle of the street. The evening's festivities were accentuated with a breathtaking backdrop of glowing cliffs in the sunset and a passing rainbow arching overhead.
"The whole community is here," said National Park Service employee Lynn Lamansky. During a community meeting two weeks ago, Lamansky said Marks offered an emotional invitation for everyone to come out for the anniversary.
"She thanked everyone for supporting the bar all these years," Lamansky said. "She also supports us."
Despite the settlement's small size, Marks said it used to have three or four bars. She described their existence as a competition, with residents "running from one to the other" when there were sales. By the time she took over the bar 10 years ago, it was the only one left.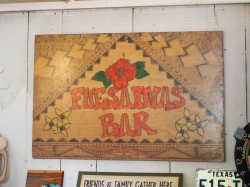 The bar's name came from a contest she held when she first opened. Fuesaina is Marks' Samoan name, she said, given to her by her dad. It's also the name of a vine in Samoa, she said, that climbs all over and is used for medicinal purposes. If you got a cut, you'd crush Fuesaina leaves and apply it to the wound, she explained.
Marks was born in Samoa and lived there until she moved to Hawaii at the age of 14. Her father owned a men's club, and all the women of their village would get mad at him because their husbands would come home late and broke, she chuckled.
Before Marks took over Fuesaina's, the bar was in a building next door, which she now uses as a storage room. When she moved to its present location, she enclosed the building to enlarge it. Before that, patrons would be cramped inside when it rained, she said.
Clever and humorous signs — like "Don't cry over spilled milk — it could have been beer!" — decorate the bar's interior. People bring them to her as gifts, she said.
"People always ask me what I need," she said. "I always feed them… they say I'm good them. That's how I get my things," she chuckled.
Running a bar in Kalaupapa — where supplies are limited and logistics have to be carefully planned months in advance– can be a challenge. Marks said she orders cases of beer on the annual barge, but has to calculate how fast it will sell so it doesn't go stale. She also gets shipments by airplane once a month. She said she supports grocery stores on topside Molokai by buying snacks and soda locally.
The bar is open for one hour every morning for tourist groups visiting the settlement, and every night from 4 to 8 p.m. Sometimes, people stay late.
"All I ask is for people to turn off the lights and clean up," she said.
"We're thrilled to have this commercial venture run by a patient in Kalaupapa and wish it many more years of good service," said Mark Miller, Kalaupapa administrator for the Department of Health.
How is Fuesain's Bar different from bars on topside Molokai?
"I don't think they have block parties!" laughed Marks.