Ka Molokai Makahiki 2010
Community Contributed
By Walter Ritte
Ka Molokai started 28 years ago in 1982 at One Alii Park. Preserving and enhancing Hawaiian Culture was the impetus for bringing back the Hawaiian games. The celebration of peace over a four-month period reflected well on the Hawaiian sense of values. During the season of Makahiki, all wars were put on hold, as agriculture and subsistence became the focus. Warriors went home to plant, fish and to care for their families and aina.
Today the values of the Makahiki season are even more important. This past year we learned important lessons when the nation's economy crashed. One lesson was that oil reserves have peaked and are on the decline, in other words "we will soon run out of oil!" The other lesson is that without The Barge, we have only a week of food for Hawaii, we have no food security.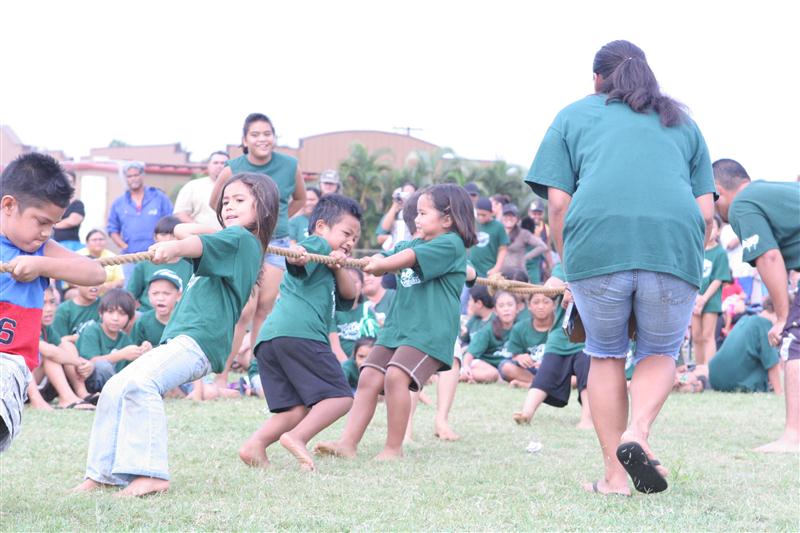 This year's Ka Molokai Makahiki was on the verge of being canceled for the first time in thirty-nine years, but the winter rains stopped just hours before the games. The constant rain went from being a potential threat, to becoming a peaceful ho'ailona, or positive sign for enough water to grow our food this coming year on Molokai. The large crowd was encouraged to grow their own food at home, and to teach their children to fish, hunt and farm.
This year's Makahiki was a great success. On Friday, the first day of the two day event, the Intermediate and Molokai High School along with schools from Hawaii Island, Maui, Lana'i and Oahu gathered mauka at the traditional Makahiki Grounds of Naiwa. Here in the lush green hills, they found their Ano Koa Ki'e Ki'e and class champions to send to the Saturday games in the dry plains of Kaunakakai. Later that same evening, in the intermittent rain, the adult men and women went through fierce competition, each entering in 10 games to find the Ano Koa Ki'e Ki'e champions. Kaina Makua, a muscle bound large man from Kauai and Leiohu Colburn, a petite pretty girl from Hawaii Island were this years adult Ano Koa Ki'e Ki'e champions for the second year in a row.
Of course the Saturday games were as great as ever, with the spot light on our elementary schools. As always, it was the hoards of screaming students, the supportive teachers and principals, and the proud parents that always make these games so successful. In the third grade Huki Huki Championship, everyone was cheering for the underdog Maunaloa team, as there was a sense of hope and sadness, with the realization that Maunaloa Elementary School may not be with us next year. The spectators were encouraged to support Maunaloa with their efforts in keeping their historic school open.