Ka Hula Piko T-Shirts
Halau Hula o Kukunaokala News Release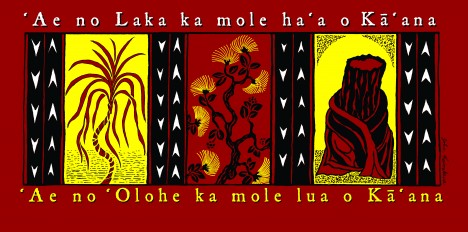 In Native Hawaiian tradition, it is common for natural elements to symbolize body forms of ancestors.  The natural element will usually have characteristics that are reminiscent of the ancestor represented.  This year's Molokai Ka Hula Piko T-shirts will be available for purchase on Saturday, June 6 at this year's Ka Hula Piko celebration at Lanikeha Community Center from 8:30 a.m. to 3:30 p.m.
This year's design depicts kinolau, or body forms, representative of Laka and `Olohe.  It symbolizes the foundation and commitment of their given kuleana to malama all that they were entrusted with.
The `Ie`ie vine only grows and flourishes with the aid of an unyielding foundation.  It clings and twines itself around the firmness of a tree to survive; without this "source" it ceases to exist.  Like the `Ie`ie vine, we too as Kanaka must cling and secure ourselves to our kumu, which are Akua, `aumakua and kupuna in order to grow and flourish.
The Ohi`a Lehua tree symbolizes duality.  It embodies balance between male and female, life and death, and the physical and spiritual realms.  One cannot exist without the other.
The Lama wood wrapped in kapa represents enlightenment, embracing all knowledge and kuleana of that knowledge as sacred.
May this design remind us all to hold fast to our source, to live in harmony and to care for those things that are entrusted to us.