Ka Hula Piko Festival 2012
Halau Hula O Kukunaokala News Release
This year's Molokai Ka Hula Piko festival will be held Thursday May 3 to Saturday May 5. This year's theme celebrates our kupuna and is "Lei `ia Molokai ke aloha hulu mamo," or "Molokai wreath in the love of the ancestors." We honor our kupuna both living and of old who have perpetuated and preserved the traditions and knowledge of our culture that we have today.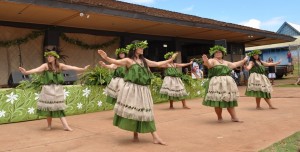 Thursday's festivities include two on-site excursions and an evening lecture. Friday we will be showing a documentary film titled "The Hidden," featuring the late Kumu Hula John Kaimikaua, with a short Q&A to follow. The culminating event is the Ho`olaule`a at Mitchell Pauole Center in Kaunakakai from 9:30 a.m. to 4 p.m. There will be `ono food, Hawaiian and local craft vendors, entertainment by various Molokai groups and Hula Halau, a silent auction and door prizes. Keep a look out for the schedule of events posted around town or you can visit kahulapiko.com to print your own copy.
This year we are hosting a Creative Keiki Contest sponsored by the Molokai Community Federal Credit Union and American Income Life Insurance Company. Keiki and `opio submitted original work of art, poem or essay that centered on this year's theme. The winners will be announced at the Ho`olaule`a and the winner of the People's Choice category will be voted on by those attending the event, so be sure to come out and kako`o our keiki.
Molokai Ka Hula Piko began in 1991, and was founded by Kumu Hula John Kaimikaua, Halau Hula O Kukunaokala and the Molokai community. It was organized as a cultural and educational event, to be utilized as a vehicle to educate and enlighten all people of the undocumented, pre-Western history of Molokai. The Festival is unique and celebrates the many oral traditions of early Molokai that tell of the island as being the birthplace of the hula.
For those who can't make it we will keep you posted via our Facebook site and twitter, so be sure to "Like us" on Facebook at facebook.com/kahulapiko or follow us on twitter @kahulapiko to get all the latest updates that week. For more information about the event, visit kahulapiko.com.