Ka Hoʻolewa no ke Aliʻi Wahine
Community Contributed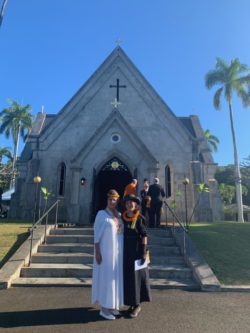 By Wailana Purdy-Avelino
On Sunday, Jan. 22, Iolani Palace was overflowing in sorrow as the gates opened. The sounds of wailing filled the air as Hawaii mourned the loss of Princess Abigail Kinoiki Kekaulike Kawānanakoa. Guarding her procession from the gates to the palace doors were men, women and children dressed in their regalia from the Royal Hawaiian Societies and the Hawaiian Civic Clubs. She was carried in her casket made entirely of koa wood into the palace, where her people could pay their respects as she lay in state.
On Monday, Jan. 23, the sacred resting ground of the aliʻi of Hawaiʻi, Maunaʻala is where the princess will be laid to rest. The funeral services were private for A-list guests along with friends and family of the Princess and the Royal Societies. Before her funeral services began, the ʻAhahui Kaʻahumanu held a special service for the Princess in the Maunaʻala church. The kūpuna of the ʻAhahui practiced their hula and song as a makana to the Princess and welcomed me with open arms as I hurried to the grass to follow along. Being the youngest member of ʻAhahui Kaʻahumanu at 18, it was an honor to stand guard at the head of the Princess' koa wood casket.
As a recent member of ʻAhahui Kaʻahumanu Molokai Chapter and fourth generation in my family, this was a once in a lifetime experience that I was honored to participate in and represent our island alongside my mom, and Aunty LuAnn Faborito. I encourage any young wāhine who are of Native Hawaiian descent to join ʻAhahui Kaʻahumanu (must be 18 years old or older) so that our Royal Societies and family legacies are preserved. If you or someone you know is interested, please contact Kammy Purdy at (808) 658-0444.