Just in Time for the Holidays
Bamboo Pantry former owner opens new store.
Looking for that perfect gift for your favorite cook, or something glitzy for your Christmas tree? Molokai has a new business offering kitchen toys and ono Hawaiian-style condiments and sweets in a quiet setting.
"Back by popular demand," said the store's owner, Jule Kamakana. After she closed Bamboo Pantry in Kaunakakai town, she still had the bug to provide Molokai with gifts for the home.
"I just want people to feel my blessings," she said.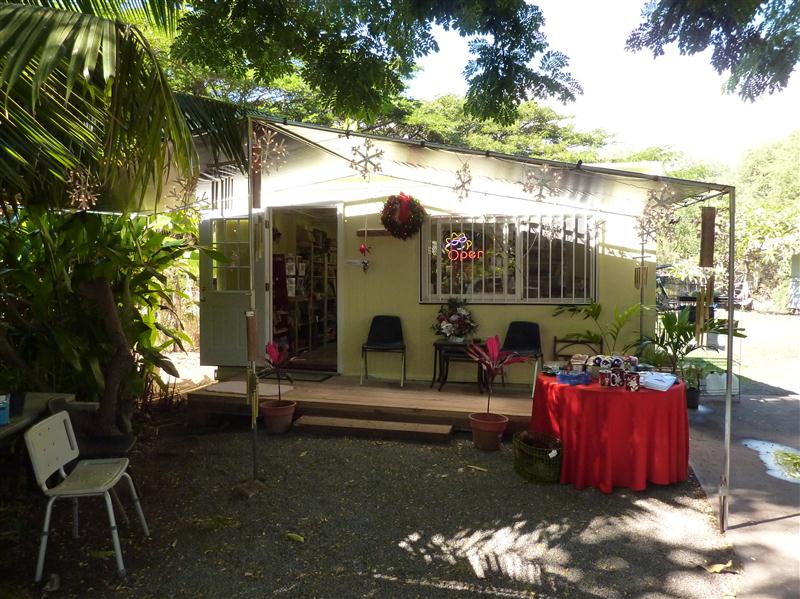 This time around, she decided to utilize what she already had – the family homestead farm, while providing some of the same products from Bamboo Pantry.
Kamakana Country Store, located on Kahanu St. just outside of Kaunakakai off Maunaloa Highway, is also a local food source. Kamakana said she and her husband grow herbs, vegetables and fruits such as pineapple, cucumber, and sugar cane. She will also sell Nancy Gove's sea salt, and said she hopes to eventually offer a tour of how salt is made.
"This is what homesteading is about," Kamakana said – using the land to not just provide for your family, but to share and education your community.
The store offers plenty of deals for the holidays – free wrapping, gift baskets, and the Kamakanas' signature glassware. Jule's husband Braddah etches kapa designs on glassware and décor, and Jule sells her Hawaiian quilt patterns as paintings as well. The store also offers a 10 percent discount for senior citizens on Mondays.
Kamakana Country Store is open Mondays 1-5 p.m., Tues-Fri 10 a.m.-4 p.m., and Saturdays 9 a.m.-1 p.m. They will be offering a 15 percent discount on all Christmas items this week. Call 553-5725 for more information.