June Arts Programs
MAC News Release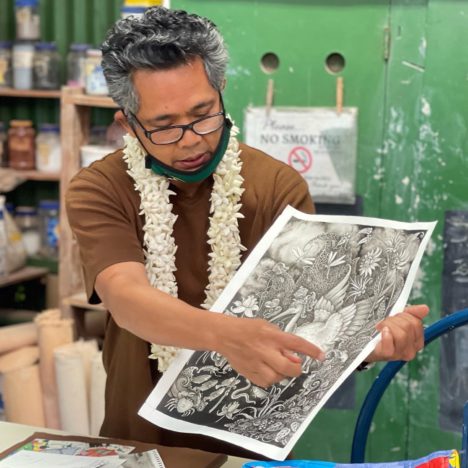 April showers brought May flowers and at the Molokai Arts Center (MAC), programs sprung open with a kanaka maoli Artist in Residence, a Balinese painter/dancer, accomplished musicians Galliard String Quartet with Molokai Instrumental Music Education (MIME) Septet and a surprise guest from Europe.
Anne Leilehua Lanzilotti, who was recently featured at the Lahaina Noon program at Honolulu Civic Center, spent a couple of weeks on Molokai completing a music composition for her residency. Her next big project is an opera based on the works of Queen Lili'uokalani. The East-West Center partnered with the MAC to bring Balinese painter and dancer I Made Moja to Molokai. Moja taught a traditional Balinese painting class and performed the dances of Bali at the Molokai Middle School. Middle Schoolers learned about Moja's culture, dances, and puppetry. The MIME program presented its Spring Concert with Galliard String Quartet. Special guest Biliana Voutchkova, who happened to be visiting with friends, shared a hypnotic unconventional piece at the concert. Voutchkova is a dynamic and thoroughly engaged interdisciplinary artist, violinist, composer, improvisor and curator. Mahalo to the Ho'olehua Homesteaders Association, Molokai Middle School, Saint Damien Catholic Church, and the East West Center for helping to host and bring our visiting artists to Molokai.
June will be concentrated on Malu Kukui, the MAC Hawaiian Arts project sponsored by the State Foundation on Culture and the Arts. The Malu Kukui workshops are intended to bring back the practice of Hawaiian arts in Molokai families, passing on techniques from kupuna to 'opio. Molokai residents of Native Hawaiian ancestry will have the opportunity to learn lei hulu (feather lei making) and lei haku. MAC will also have a Kapa Workshop, Native and Invasive Species Dye Workshop, and Hau Amazing Workshop. Anyone interested may contact MAC Executive Director Alice Kaahanui at molokaiartsexecdr@gmail.com. Classes are limited to residents of native Hawaiian ancestry and are free. However, there are only 10 to 15 spots in each class, so first come, first served.
The MAC continues its Saturday classes for keiki/youth. Visit molokaiartscenter.org for more information.