Julie Marie Pierson Place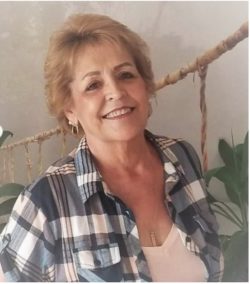 Julie Marie Pierson Place, age 66, passed away on Oct. 24, 2022 at Queens Medical Center in Honolulu surrounded by loved ones. She was born Nov. 8, 1955 to Lorel and Frances (Schuler) Pierson in Nampa, Idaho, who have both since passed. She is also predeceased by her husband Rhinehardt K. Place of Ualapue, Molokai.
Julie graduated from Nampa High School in 1972. She moved to Molokai in 1984. She worked a while with Hotel Molokai, Molokai Ranch and Molokai Realty. Julie worked for the State of Hawaii until her retirement in December 2021, dedicating 30 years to the Department of Human Services, Child Protection Division where she helped to provide services for foster children.
Julie is survived by her children Brandon Pierson (Sandee), Kaylor Bishaw (Tehani), David "KB" Bishaw (Ashley); stepchildren Zaneta Kansana (Patrick), Lynn Juario (Daniel), Kaiwi Place (Belz), Liane Kalima (Kalani), Teal Valdez (Russell), Pinana DelaCruz (Scott), and Melorine Naeole (Cheyne); brother Steve Pierson (Kathy) and sister Angie Cabreira (Albert) as well as her many other relatives.
Julie was a devoted wife, mother, daughter, sister, aunt, friend and grandmother. She will be forever missed by all that knew her.
A celebration of life is scheduled for Jan. 7, 2023, at the Kilohana Recreation Center, Ualapue, Molokai. Visitation will begin at 9:30 a.m., with services at 11 a.m. and pa'ina to follow. Any gifts/donations may be directed to the Family of the Bereaved Julie Place, P.O. Box 164, Kaunakakai, Hawaii 96748.