Joseph Kumauna Ah Fu Chong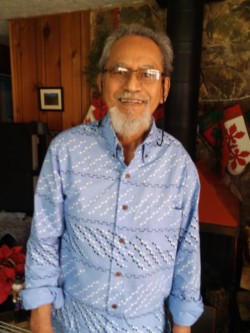 Joseph Kumauna Ah Fu Chong, 81, passed away Aug. 18, at home in Waimea, Hawaii with his family by his side.
Brother Joe as he was lovingly called was born Feb. 5, 1942, in Kalamaula, Hawaii to George Kuala'au and Sarah (Kahawai) Chong.
He attended school on Molokai and graduated from Molokai High School in 1960. He married Gertrenda Irene Hall on Sept. 11, 1971. Joe loved Trenda dearly for 52 years. He always enjoyed her vegetarian cooking and was so thankful for the time she devoted to taking care of him.
Joe was a talented and creative carpenter. He built homes, tree houses, aquaponic gardens and so much more. He also built a wooden rocking-horse for his grandchildren to enjoy.
Joe loved the Lord until the end. For many years he served as church deacon. He loved to greet people with his handsome smile and strong handshake.
He is survived by his wife Trenda (Hall) Chong, children Melia Paleka, Ikaika Chong (Rhoda), Anuhea Chong-Sriwongtong (Francis), grandchildren Ha'enaomana Paleka and Ha'inoa Paleka, and many 4-legged grandchildren.
A celebration of life will be held on Sunday, Nov. 5 at the Honoka'a SDA Church located at 45-3348 Mamane Street. Visitation will be at 10 a.m., celebration at 11 a.m.