John "Bobo" Nicholas Perez Ill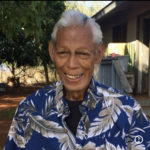 John "Bobo" Nicholas Perez III, 76, of Ho'olehua, Hawaii, passed away peacefully on Sunday, Dec. 11, 2022 in Kamuela, Hawaii. He was born on May 12, 1946.
Bo was a restaurant manager at Don Ho's Island Grill, Molokai Lodge Dining Room and worked at Kanemitsu's Bakery and Coffee Shop. He was a talented musician performing with Bell and James, Dick Jensen and Molokai Jazz West. He was high school teacher and member of the Western Washington Painters Union. Bo is a proud graduate of Molokai High Class of 1964.
Celebration of Life will be held on April 15, 2023, Ho'olehua Congregational Church Fellowship Pavillion, 2205 Lihipali Avenue, Molokai. Visitation at 9 a.m., memorial service at 10 a.m.