Jodie Kaeha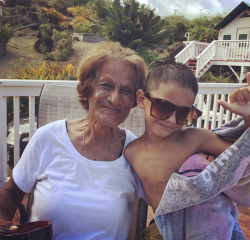 Jodie Kaeha, 82, died May 5, 2020, with her family and loved ones by her side.
Jodie was born May 29, 1937, in Hana, Maui. Raised by her father, Jodie lived briefly in the Philippines, later, returning to Molokai where she found a family bond with the Dudoit Ohana. She happily spent the better part of her life at their Morris Point Residence.
Jodie was a beloved part of the late Moana Dudoit's household and was never very far from Moana's side. Jodie's extravagant and sparkly dress attire was outdone only by her dedication and love for Aunty Moana and the entire Dudoit Ohana. Many generations of Manae residents can attest to her hard work ethic and eccentric zest for life.
Her interests included family, yard work, Hawaiian music, shopping and traveling. She devoted much of her time and energy as a caregiver to family members, which included Aunty Moana, until Moana's death in 2013.
Jodie is survived by her Dudoit Ohana and many loved ones who hold her memory close and will miss her immensely.
Services for Jodie will be held at a later date TBA.