James "Kimo" Ioane Paleka, Sr.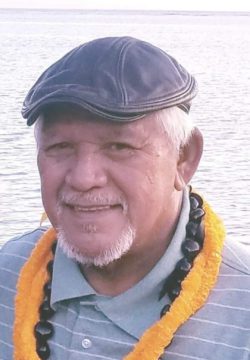 James "Kimo" Ioane Paleka, Sr., one of Molokai's well known musicians, passed away on Jan. 11, 2021 at the age of 73. He was born on April 10, 1947 to Herbert and Elizabeth "Haahaa" Paleka, Sr. of Ho'olehua. He was a graduate of Molokai High School and at a very young age learned to sing and play guitar with his mom. While working for Hawaiian Airlines for many years, he would spend his evening with his mom and best friend Waipa Purdy serenading guests at the former Sheraton Hotel. Guests loved requesting favorite songs and in response to their request, Waipa, grandma, and dad would leave the stage, walk to the guests table and welcome them with their music and Molokai's aloha. He was also an avid golfer and loved spending his free time with special friends.
He is survived by his sons James "Kimo" Paleka Jr. (Keala) of Kaunakakai, Duke "Paka" Paleka (Pua) of Kalamaula, Nathan Paleka (Tammy) of Kapaa, Kauai, and Kaohu Paleka of Kalamaula; daughter Paulie Jean Paleka-Ku (William) of Ho'olehua; sisters Erma Jean Aikala of Ho'olehua, Elizabeth "Haa" Mero (Larry) of Tucson, Arizona; brother Herbert Paleka Jr. of Kailua-Kona; six grandchildren and one great grandchild.
Due to COVID-19 social distancing rules, the family has decided to have a private service.