James Henry Lani Acasio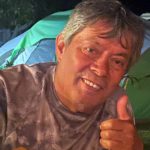 James Henry Lani Acasio, 74, of Aurora, Indiana, passed away Monday, Feb. 20, 2023, in Cincinnati, Ohio. He was born Aug. 2, 1948, in Ho'olehua, HI, son of the late Hipolito Acasio and Alice (Lani) DeMello.
He served his country as a member of the United States Army during the Vietnam War. James will be fondly remembered as a loving husband and Papa.
James is survived by his 'ohana which include his loving spouse of 51 years Deborah (Bauer) Acasio; daughters Anela Acasio Schwier and Rachel Acasio; grandsons Zane, Jack and Owen Schwier; granddaughter Elise Bostick; siblings Walter (Kehau) Kaiama, Wilfred Demello, Jr., Geri Daniels (Amos), Nora (Lawrence) Molena, Rita (Cliff) Yonamine, Marylil (Crispin) Tabangcura, and Joy DeMello; as well as many nieces, nephews and cousins.

He was preceded in death by his father Hipolito Acasio; mother Alice DeMello; and siblings Lawrence Lani, Jessie Acasio, Momi Acasio, Carrie Marie Poaha, Arlyne Acasio-Heinig, and Bonnie Acasio.

Family and friends will be received Friday, March 3, 2023 from 4 to 6:30 p.m. at the St. John's Lutheran Church, 4937 State Road 48, Lawrenceburg, IN. 47025. Services will be held at the church at 6:30 p.m. with Pastor Phil Garber officiating. Military services will be conducted by the Southeastern Indiana Honor Guard.
Contributions may be made to the Grandchildren's College Fund (checks made payable to Debbie Acasio). If unable to attend services, please call the funeral home office at (812) 926-1450 and we will notify the family of your donation with a card.