Island's First (Temporary) Stoplight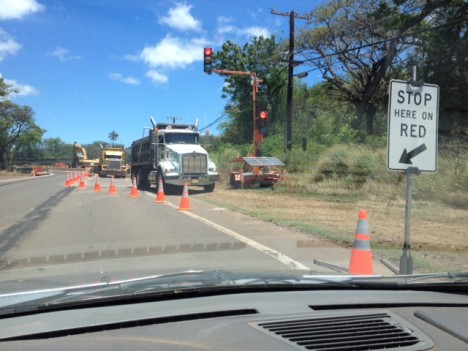 Molokai's first stoplight installed at the Kawela Stream Bridge construction site was only directing traffic for two weeks. As of Friday before going to press, Goodfellow Bros. Project Engineer Clayton Morrell said the traffic light is scheduled to be removed on Monday.
"It was only there so we could pave the west-bound lane and shoulder," said Morrell. "[During that time] we had to shift to one-lane traffic."
Contractor Goodfellow Bros. is putting the final touches on the state Department of Transportation (DOT) bridge project before scheduled completion at the end of July.
The next big change drivers will notice is a shift in traffic from the curved, detour route to traveling over the new bridge, said Morrell. In the next three to four weeks, workers will finished the concrete lining of the stream bed under the structure and slowly remove the detour bridge. Finally, the last of the paving will be completed in mid-July, he said.
Morrell asked drivers to remember that even with the stop light removed, there still may be some delays and periods during which workers will need to control traffic flow. And, as long as construction is underway, the speed limit in the area remains at 25 miles per hour.
Reactions to the temporary traffic light ranged from interest — photos of the novelty on Facebook and Instagram abounded — to annoyance that the island, known for no stop lights, would finally break tradition, even if temporarily.
Construction on the new bridge began in 2012 and was scheduled for completion in January of this year. However, lapses in state permits caused months of delays.
The new bridge will be almost 20 feet wider than the former bridge, allowing for a 10-foot wide shoulder on each side of the highway, according to DOT officials. The height of the new bridge will be higher above water level to accommodate frequent flooding of the Kawela Stream, and the streambed under it will be lined with concrete to protect the banks from erosion and facilitate maintenance.
The $6.1 million bridge project is 80 percent federal and 20 percent state-funded, according to Caroline Sluyter, DOT public information officer.