Island to Island
Pacific island group performs on Molokai.
With a flourish of feathers and face paint, a Pacific cultural group called Ariw Poenipan performed for the Molokai community last week. The group hails from the Torres Strait Islands between Australia and Papua New Guinea. Known for their authentic cultural performances, theirs is an oral culture preserved through passing on stories, traditions, music and dance. Molokai got to see a glimpse of this in front of the Public Library. Pictured above, dancers display the elaborate, hand-made headdresses and "dance machines" they are famous for. The props are not only cultural significant, but assist the dancer keep rhythm as they manipulate the moving parts, creating sound effects.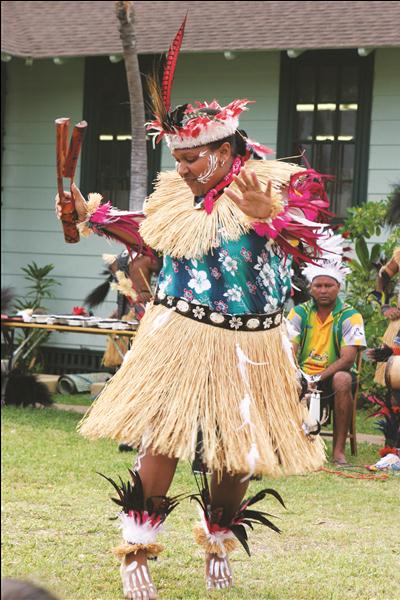 To illustrate that the challenges they face in the Torres Strait are similar to those encountered globally, leader Jeff Aniba-Waia explained that because of global warming, many of their low-lying islands are in danger from rising water levels. The group's name, Ariw Poenipan, refers to the electrifying lightening that pierces the rain, and the echoing thunder of the monsoon season.