An Irresistible Force
Mother Marianne celebrated in print.
As the global focus on Saint Damien begins to lessen, Molokai knows full well the island has another divine resident to be proud of: Blessed Mother Marianne. The woman who comforted Saint Damien in his last months became the leader in spirit of the Kalaupapa community after his passing.
Mother Marianne is currently on her last step to canonization – she was beatified in 2005 – and two important figures in her cause wrote an extensive biography of her life, released last month, called "Pilgrimage and Exile: Mother Marianne of Moloka`i."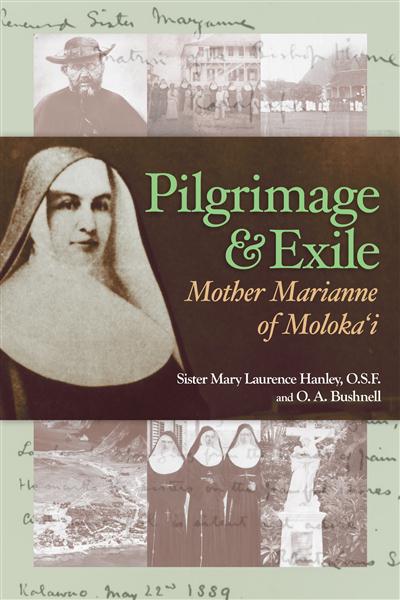 "The main purpose of the book is to share the life and virtue of Mother Marianne, the inspirational and motivating story of a life lived by a woman who had extraordinary gifts and talents and yet gave her all to serve the poorest of the poor because of her love of God and neighbor," wrote one of the authors, Sister Mary Laurence Hanley, O.S.F., via email.
Sister Hanley is one of the four members of the Historical Commission for the Cause of Mother Marianne. Her co-author, the late Dr. O.A. Bushnell, also a member of the cause committee, wrote several books and historical novels about the Hawaiian Islands, including "Moloka`i," a story of the Hansen's disease patients at Kalaupapa.
In the course of her canonization research on Mother Marianne, Sister Hanley updated her original book of the same name, written 20 years ago.
Sister Hanley was first inspired by another biography she read about Mother Marianne, affectionately known to her congregation as the "Beloved Mother of Outcasts."

"It had adventure and a great heroine and it was a call for courage. I decided to become a Franciscan sister and thought about going to help patients at Molokai," Sister Hanley said.
She instead became a teacher, and eventually her research skills led her to be the director of Mother Marianne's Cause for canonization in her congregation.
The book delves into surprisingly in-depth details of Marianne's life, including her family's decision to move to America and their reactions, the exchanges between the Catholic Mission in Hawaii and Mother Marianne's order prior to the sisters arrival, and direct quotes from the patients in pidgin when the sisters worked at Kaka`ako.
Molokai's Mother
Mother Marianne was born Barbara Koob (also Kob, Kopp, and now officially Cope) on January 23, 1838 in Germany. Her family moved to Utica, New York the following year and she became a naturalized citizen as a teenager. She expressed a desire to dedicate her life to God at a young age and entered the Sisters of Saint Francis in Syracuse, N.Y at age 24.
Sister Marianne worked as a nurse-administrator at St. Joseph's Hospital in Syracuse beginning in 1870 – starting a long career as a healer of bodies as well as souls. She was elected Provincial Superior in 1877, a title she kept for the rest of her life.
In 1883 she received a letter from the Catholic Mission in the Hawaiian Islands asking for nurses and schoolteachers. After a few months, she wrote back with high conviction of her decision.
"I am hungry for the work and I wish with all my heart to be one of the chosen Ones, whose privilege it will be, to sacrifice themselves for the salvation of the souls of the poor islanders…I am not afraid of any disease, hence it would be my greatest delight even to minister to the abandoned lepers," wrote Mother Marianne, as quoted in "Pilgrimage and Exile."
She move to Kaka`ako Hospital in Honolulu where she saved many lives by instituting the then-unknown ideas of sterilization and sanitation. When the hospital closed, she and several sisters were finally able to join Father Damien at Kalaupapa in 1888. She stayed for the rest of her life. Like Saint Damien, Mother Marianne has a grave marker in Kalaupapa, near the Bishop Home for Girls where she worked.
The canonization committee's website, http://blessedmariannecope.org/, has more information on the ongoing project for the canonization of Mother Marianne.