Improvements to Veterans Cemetery Complete
Thanks to $438,000 in federal funding, two new columbaria, or vaults to hold urns containing ashes, were installed last month at the Molokai Veterans Cemetery in Ho`olehua. The structures house 128 new niches, which act as a place to honor the deceased whose families choose cremation rather than burial. Before the much-needed columbaria were completed, the cemetery had only 14 niches, 13 of which were already filled.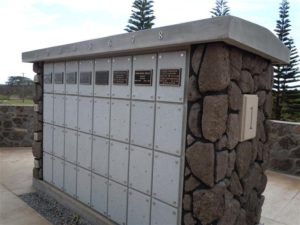 "We had to turn people away because there was no room," said Manny Garcia, member of Molokai Veterans Caring for Veterans and community coordinator of the improvement project. Now, fallen veterans in the future will "have a place to stay," he said.
Garcia said local vets had been trying to get funding for the project for six years. Sen. Akaka finally pushed the project through the Office of Veterans Services, and the state Department of Defense (DOD) completed the work.
In addition to the columbaria, a new stone wall near the cemetery building was constructed, and landscaping was included around the area. In the near future, Garcia said a new identification directory of the grave sites will also be installed to help families find their loved ones. The handicapped access will also be renovated.
Additional funding was also allocated for leveling of the grave sites in the future.
The improvements were part of $1.4 million in funding released by Gov. Abercrombie earlier this year for renovations to veterans' cemeteries statewide, including on Molokai and Lanai.
"I am most pleased with the release of these funds, and I want to thank my colleagues in the State Legislature for their support of appropriating funds… for these priority projects that honor those men and women who have served in our armed forces," said Rep. Mele Carroll in a press release.