Illuminating the Town
First bulk of CFL bulbs arrive in Molokai.
It's true. The bulbs are here. And upon their arrival were a few Molokai students eagerly waiting to roll up their sleeves and begin the process of distributing and educating.
"With the help of Blue Planet, our goal is to have everybody on Molokai using fluorescent bulbs," said Luke Kikukawa, a seventh-grade student at Aka`ula School.
The shipment of 44,000 compact fluorescent light bulbs (CFLs) arrived at the Kaunakakai Wharf last Thursday and will be making its way through Molokai as distribution through various schools and businesses begins tomorrow and will continue through May 31.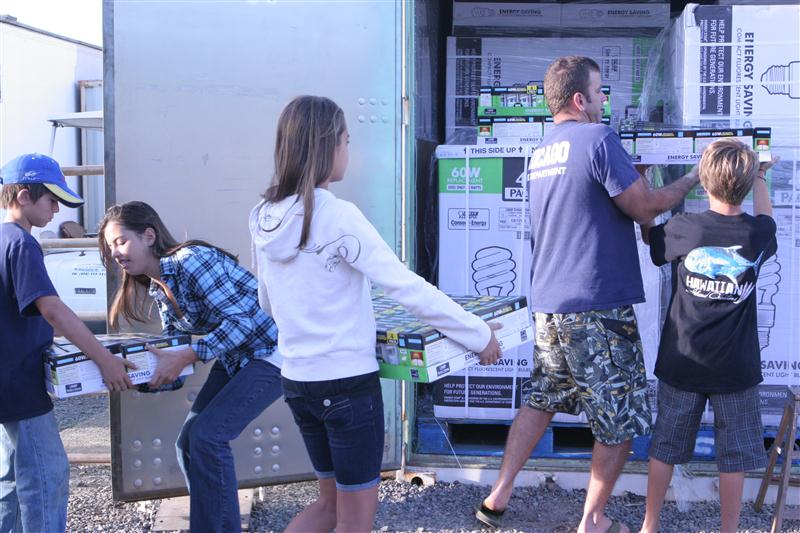 Keiki have already started campaigning for a more energy-efficient Molokai – and even got their first customer as they were unloading the bulbs.
Last Saturday, three students – Kikukawa and Sarah Jenkins from Aka`ula School, and Moriah Jenkins from Molokai High School – set up shop in front of Friendly Market, distributing bulbs and educating passerby on the harmful effects of carbon emissions.
"We're passing out flyers and educating people about global warming and carbon emissions," Kikukawa said. "I've learned a lot about how fluorescent bulbs can save you money and energy."
Seventh-grader Sarah Jenkins added that coordinators of the project are in talks with Councilman Danny Mateo to replace all bulbs in county buildings to help lower the costs for taxpayers.
Kikukawa, Sarah and Moriah, along with various elementary school students, will be out campaigning for the next five Saturdays – until May 1 – urging people to stop by, have a listen and exchange some bulbs.
Participating distribution locations are Molokai schools and businesses – a full list and more information can be found at greenmolokai.org.
The exchange is "one-for-one," meaning participants must bring in their old light bulbs in exchange for new Energy Star CFLs. Up to 30 light bulbs per household are allotted for exchange.