Igniting Worry
Golf cart fire at west end condo.
A few weeks ago, a random fire sparked concern for handicapped rights for one Molokai resident.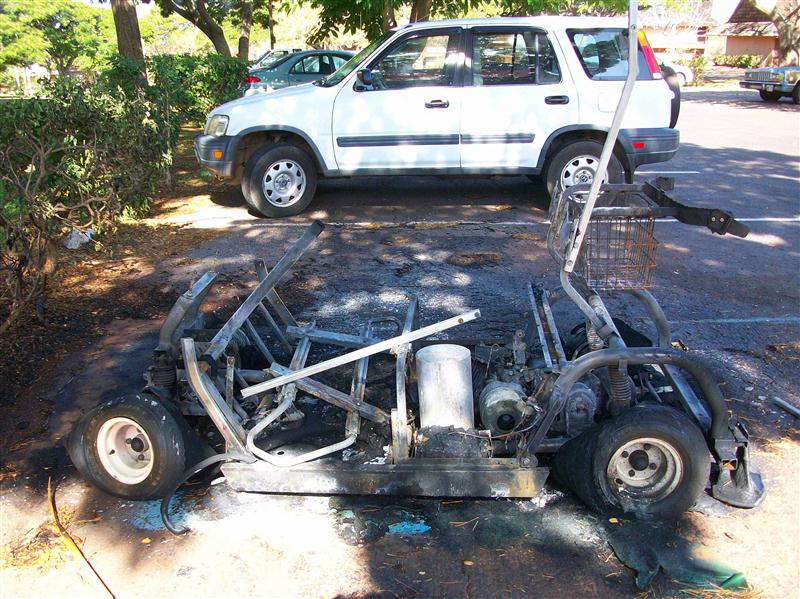 Betsy Thompson, who owns a condominium at Kaluakoi Villas, uses a golf cart to maneuver around the condo complex due to health problems – until it was torched. According to witnesses, Thompson's golf cart was ablaze around 2:30 a.m. on Saturday, Oct. 24. Her neighbors Bobby Dacuycuy and Frank Tanner both attempted to extinguish the fire.
Dacuycuy told Thompson he heard a noise, like what a barbeque fire sounds like after gasoline or accelerant is added before it is lighted. Thompson called the Fire Department the next morning, but because the fire was already out, no truck was dispatched.
Molokai Detective Eugene Santiago said damage of the golf cart has been estimated at $2,000, and a nearby car also suffered minor heat damage. He said the police department does not know if the fire was accidental or intentional, and there are no leads to its cause at this time. If the fire was found to be intentional, the perpetrator would be charged with second degree arson, a class B felony, with a maximum 10 years in prison.
Arson is not a common crime on Molokai.
"As far as my experience as a patrol officer or an investigator, [arson incidents are] more of the exception rather than the rule," Santiago said, who has served Molokai for nearly 26 years.
Thompson has been recently been renting a house in Maunaloa temporarily, due to issues with use of the golf cart. The current rules of the West Molokai Resort AOAO (Association of Apartment Owners) stipulate that only security and maintenance are allowed to use golf carts. Thompson said she believes this rule should be changed, because other residents like her need personal motorized vehicles to get around.
Jeff Kant, president of the West Molokai AOAO, said he were unable to comment due to the ongoing investigation of the incident.
But eventually, "someone's going to brag," Thompson believes. She has set up a $750 reward through Bank of Hawaii for information leading to a suspect.
"Whoever did this, it impacts access for all of us, it impacts the handicapped people who live there," she said. "What they have done is limited my enjoyment. But I refuse to be a victim."