Igniting Dreams
Some artists use paint as a tool of the imagination, others prefer clay, but for one artist, setting her art aflame brings culmination to the project. Mavis Muller, an artist from Homer, Alaska, came to Molokai two weeks ago and began her 20th public basket-burning project.
Muller spent the past week building a 7-foot structure with local community members willing to help. They used coffee plants, haole koa, mangrove, banana and other local plants for the basket.
Muller finds it to be a healing process when people can burn their heartfelt messages inside a hollow pedestal and basket, she said.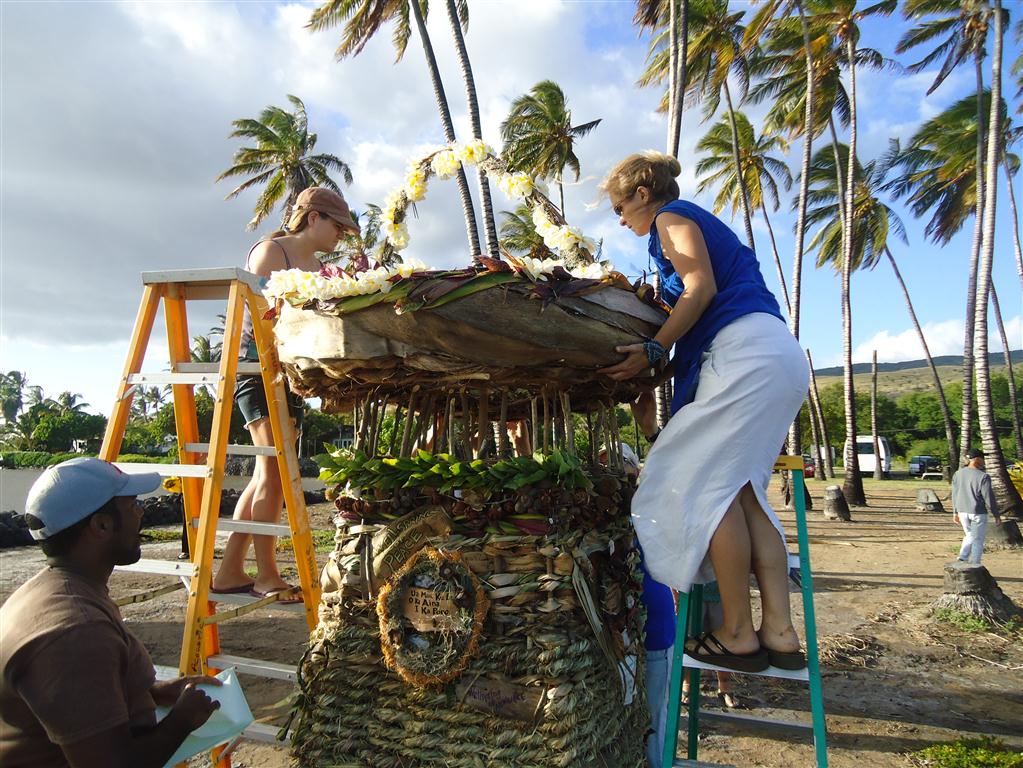 Last Saturday at Ali`i Fishpond, she invited people to write down and insert prayers, dreams and hopes on pieces of paper inside the basket. Around sunset, Kauwila Hanchett chanted in Hawaiian and torches were lit. Soon after, the dreams, hopes, and prayers of Molokai took a new form.
One woman even put a piece of her wedding dress in the basket. Another brought old love letters.
Muller calls her project "public art."
"I feel like I have butterflies in my stomach and my heart is wide open," one participant said.
Muller has held her burning events on Maui, and in California and Oregon as well as her home state.
"She uses the art as a healing force," said Teri Waros, owner of Kalele Bookstore and Divine Expressions, who helped facilitate the event. "It helps serve people here in our community."
"I think this is a great way for the community to get together," said participant Drake Wells.