I Mua Makahiki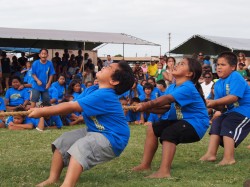 Thousands gathered from Molokai and around the state to perpetuate the traditional season of peace and harvest and test their strength and athletic prowess in Ka Molokai Makahiki. In its 33rd year of revival after observation of the ancient season had dwindled around Hawaii, the three-day event drew record numbers to celebrate both the meaning behind the event and its friendly competition.
"People say, 'if you want to see the original, go to Molokai,'" said Walter Ritte, one of the event's organizers. "We've kept it low key so it has the cultural essence to it… the feel and spirit of Makahiki is strongest here."
Onlookers crowded close, cheering as their favorite teams competed in such events as uma (arm wrestling), kukini (running races), ulu maika (Hawaiian bowling) and others.
While the competition can get fierce, it remains friendly.
"It's not all about winning," said Kaunakakai sixth grader and student president Meali`i Kalani. "We just compete to have fun… I was also cheering for Kilohana and Kualapu`u [teams] because I have family there too."
Meali`i said she and her fellow students began training for Makahiki in October. She represented her school in Konane, or Hawaiian checkers, having earned the honor after beating classmates in the game during preparation for Makahiki.
Kualapu`u School had a strong showing in the popular hukihuki (tug-o-war) event in the elementary division. Announcer Hanohano Naehu said the school has frequently "dominated" the competition in the past few years.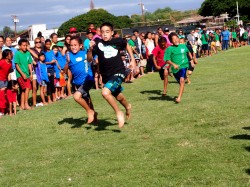 "Their style is different than we've seen over the years," Naehu told the crowd. After the sixth graders' win, he said that team had been undefeated since Kindergarten.
Kualapu`u Principal Lydia Trinidad wouldn't reveal any secrets of their success, but credited a "great team of teachers and students."
"The sportsmanship and celebrating the island is the best part," she said.
Kualapu'u School was the winner of the First Annual Wayne Meyer Trophy Award as the Elementary School Champions.
This year, the competition featured elementary, high school and adult teams from Molokai, Maui, Hawaii Island, Oahu and even Los Angeles, California.
Ritte said with more off-island representation than ever, spread through word of mouth, the event and accommodations are "maxed out." Ritte said he lost count of how many off-island teams were represented this year.
Kau`i Aikala, a teacher at Kamehameha School Maui, was born and raised on Molokai. She said after bringing students over to celebrate Makahiki on Molokai for the first time last year, she was able to gain the school's support to fund a larger group of third, fourth and fifth graders this year. She said prior to Saturday's events, she made sure the students completed a service project on Molokai, as well as visited various traditional Makahiki sites on the island.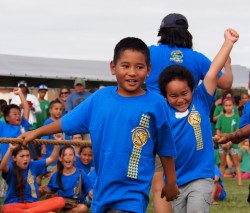 "Before they have fun, they must show respect," she said, adding that they are grateful for the hospitality and support they were shown by Molokai organizations and individuals.
Abraham Ramirez of Los Angles came with a native organization called the Harmony Keepers. He said during the adult decathlon event Friday evening that as a group that endeavors to protect the traditions of native peoples and their ancestors, it was an honor to visit Molokai to participate in the perpetuation of Makahiki.
Molokai's Suliana Aki, last year's decathlon wahine champion, agreed that competing is an honor.
"It's nice to do what our ancestors used to do and compete against the different islands," she said.
Also among the weekend's guests attending Ka Molokai Makahiki was a team from Hawaiian Airlines visiting the island in anticipation of the company's coming Ohana by Hawaiian service to Molokai, according to an Instagram post from Hawaiian's public relations company.