The Hunt is On
Keiki and their 'ohana swarmed over the wide greens of Kaunakakai ball field, hungrily snagging as many eggs in sight during Saturday's pre-Easter festivities.
More than three hundred turned out for the 20th Annual Giant Easter Egg Hunt, hosted by King's Chapel Molokai. Most of the hunters returned home with bags full of candy-filled eggs and smiling faces.
The event kicked off with raffled prizes, song and dance performances by the church's youth, prayer, games and a humorous Easter-rendition of The Three Little Pigs.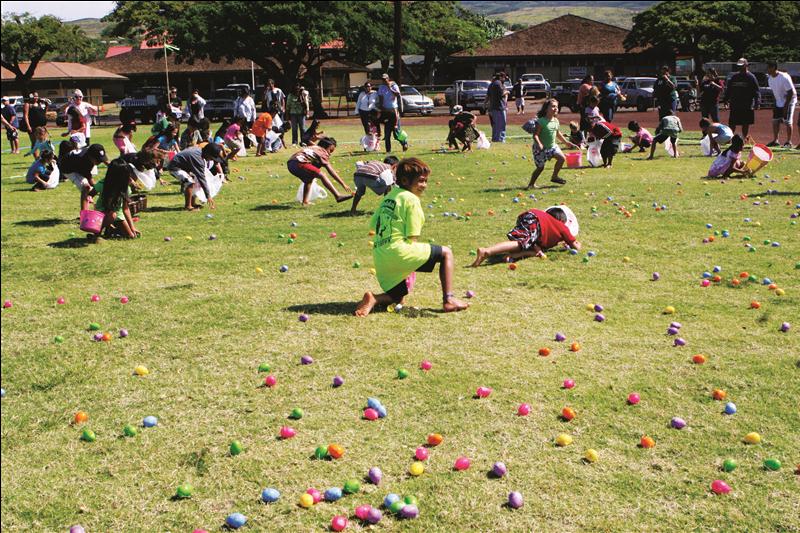 After the wild escapades ensued, weary families trudged home with a bounty of sweets, while church volunteers packed it up and headed for Maunaloa, where they did it all over again – this time with 2,000 eggs.
King's Chapel Molokai would like to give a big Mahalo to Sharon Samonte, Sam Namaka'eha, Mike Akaji, Ted Lorans, Island Air, Uncle Butch, Pachecco 'Ohana, Rawlin's Chevron, Take's Variety Store, Big Daddy's, Sun Down Deli, Molokai Surf, Wickes Enterprises, Hotel Molokai, Molokai Drugs Store & Kamoi Snack-n-Go, The Molokai Drive-Inn, Maui County Park's & Recreation, The Store House, and all of its 'ohana.