Humane Society Reaches Goals, Plans for More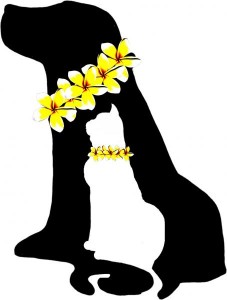 It's been a year of growth for the Molokai Humane Society (MoHS), a nonprofit organization based in Ho`olehua that serves the needs of the island's animals. At the start of the last fiscal year, MoHS had three needs –a veterinarian, land and money. With one goal accomplished, the organization's newly-elected board of directors hope to make progress on the other two in the coming year.
A Year's Worth of Progress
Last year, MoHS hired its first-ever full time veterinarian. Dr. Stewart Morgan moved to Molokai in November and has been administering to the animals ever since. His presence has allowed the organization to complete more procedures — from spaying and neutering to more complicated surgical procedures, according to Executive Director Jenn Whitted.
"He is amazing, very thorough," said Whitted at MoHS's annual meeting last Friday. "He loves Molokai and he loves the animals. It is a definite positive for the organization."
While MoHS does not have a permanent facility on the island, they were able to add a second storage container to their current site in February. This was critical to operations because it allowed MoHS a place to perform sterile surgeries, said Whitted. Previously, all operations were cramped into a single 40-foot container, but having this second facility allows the vet to be undisturbed during surgeries. Additionally, MoHS boasts a newly remodeled covered reception area with chairs, animal magazines and an area for cats.
In terms of funds, this year has been monumental for MoHS. They hired a bookkeeper at the start of the fiscal year in July 2011 in order to "better maintain quality records," according to MoHS Board Secretary Carol Gartland.
"Every dollar that comes in gets a receipt," said Whitted. "This year, we have been very diligent in making sure every dollar is accounted for."
The MoHS accumulated over $152,000 in donations, grants and fundraisers, as well as $75,000 from the county. Much of those funds were directed at securing medical supplies and veterinary services.
MoHS performed over 3,500 vet services throughout the year, including 549 spays and neuter procedures. Their net income for the year was a recorded $79,237, and according to Gartland, they still have over $93,000 in the bank, which will be allocated by the incoming Board of Directors.
MoHS plans on spending a good chunk of those funds towards facility management and improvements, as well as towards implementing a low-cost spay and neuter program for the island, said Whitted.
"We've never had those kinds of numbers before and it's been wonderful to have that to work with,"said Gartland. "Still, we always try to be as frugal as we could [while still] helping the community."
Changes Still to Come
Beginning in August, MoHS will be expanding their appointment hours from 8 a.m. to 4 p.m., Monday through Friday, with a 30-minute lunch break at noon. Current hours are 8 a.m. to noon, and Whitted said the extra four hours will allow operations to be less hectic.The extension is a temporary two-month trial, after which a permanent decision will be decided upon by the board.
MoHS also hopes to continue improving its facilities, including building a roof between the two containers to create a breezeway, and also securing monies for new solar panels to be installed for more cost-efficient energy.
Lastly, MoHS plans on developing a system of high-volume spaying and neutering program with The American Society for the Prevention of Cruelty to Animals (ASPCA), a New-York based organization committed to the humane treatment of animals.
"This is a perfect opportunity for us because they mentor, provide training and make sure you get a sustainable program up and running," said Whitted. Additionally, working with ASPCA will qualify MoHS for grant monies from other sources like PetSmart, PetCo, and the Bob Barker Foundation.
At last week's annual meeting held at Mitchell Pauole Center, MoHS also elected five new board members: Lydon Dela Cruz, Tony Lauifi, Nan Walters, Karen Buhr and Frank Pratt.