Howard Michael Ahina Jr.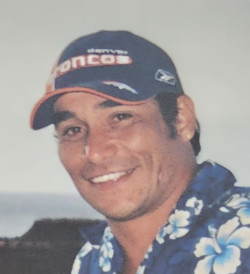 Howard Michael Ahina Jr. passed away on June 24 at the age of 53. He was the oldest of three siblings born to the late Howard and Shareen Ahina. Howard grew up in Ho'olehua on Pu'ukapele Avenue. He attended Kamehameha Kapalana for three years before returning to Molokai High School where he graduated in 1987. After graduation, he enlisted in the United States Navy, where he proudly served his country for two years.
On April 12,1991, Howard welcomed the birth of his daughter, Leilani. His second daughter, Hiilani, was born two years later, on March 30,1993. Howard excitedly welcomed the birth of his only son, Isaiah, on June 23, 2003. Between 2008 and 2018, Howard was blessed with four grandchildren.
After returning from the military, Howard worked for the State of Hawaii Department of Defense, Pau Hana Inn, Hotel Molokai, Paddlers and Kanemitsu Bakery. During his free time, Howard enjoyed surfing, golfing, fishing, pounding 'opihi, singing, journaling, doing puzzles and spending time with family and friends.
Howard is survived by his children, Leilani, Hiilani, and Isaiah, his grandchildren, Avalyn, Tristan, Aaliyah, and Nick Jr., his sister Sandy, and his grandma Mildred.
Visitation will be 8:30-10:00 a.m. with services at 10:15 a.m. to be held on Oct. 14 at St. Damien Catholic Church. Burial will be at Kanakaloloa Cemetery immediately following the services. Please join the family for a celebration of life luncheon at One Ali'i Park following the burial.