Hotel Kitchen Approved for Repair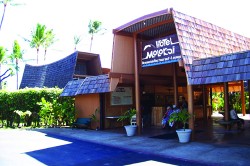 A year after a fire destroyed Hotel Molokai's kitchen , Hula Shores restaurant and bar is one step closer to repairing and reopening its dining facilities. Hotel Molokai was approved for repairs at the June 26 Molokai Planning Commission meeting, securing their ability to begin construction soon. The Special Management Area (SMA) minor permit approved repairs to the Hula Shores kitchen and the hotel's storerooms, laundry and second floor guestroom, all of which was demolished after an accidental fire June 19, 2012.
The Maui County Planning Department set a June 30, 2014 start date for construction and completion within a year after that. Project design manager Luigi Manera said he will be meeting with Hotel Molokai owners soon to set an official construction schedule. He added that after the meeting he will be able to provide the public with more updates on the repair process.
Plans for the repaired structure call for the bar to be moved from the former front entrance of the restaurant to what used to be a dining room facing the ocean, Manera said in a letter to the Maui County Planning Department. The back wall of the bar will be shared with the kitchen. The size of the structures will be exactly the same – 2,083 square feet for the first floor and 627 square feet for the second – except the height will increase from 25 to 27 feet.
The repairs will cost an estimated $460,000, according to the SMA assessment, and the property's location near the shoreline will require a Special Flood Hazard Area Development permit. The County Planning Department recommended the approval of the SMA as long as construction will not endanger water quality and marine resources.