Ho`omana Hou Graduates Four
Through tears and smiles, hugs and warm words, four students proudly graduated from Ho`omana Hou High School last Friday. The graduation ceremony – planned, organized and led by the students themselves – focused on ohana to demonstrate understanding of who they are and where they come from.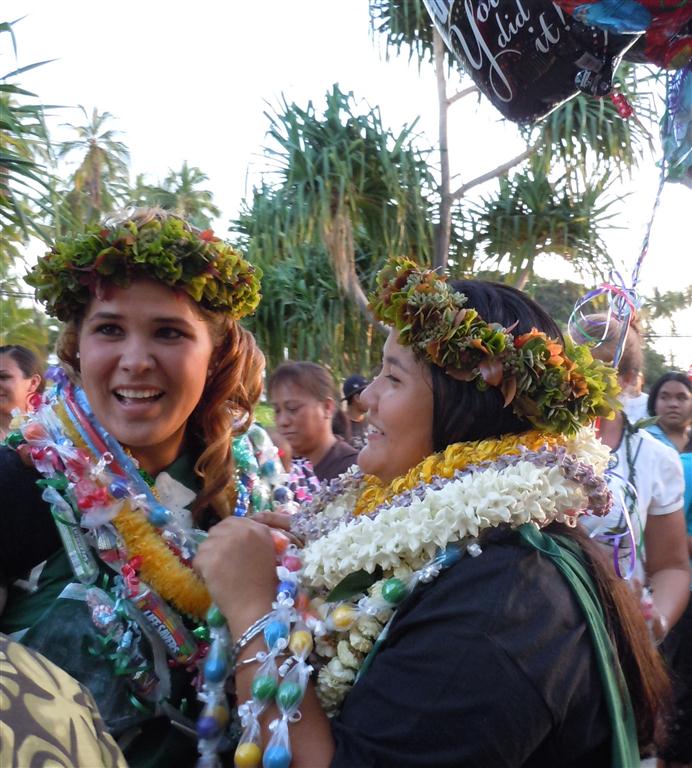 The four – Mikayla Tengan, Shaquille Rapanot-McGuire, Che Gonzales and Rashel Ka`aikala – were joined by underclassmen in singing oli. Before they were handed their diplomas, students chanted their genealogy in `olelo Hawaii.
While Ho'omana Hou is not an immersion language school, `olelo Hawaii plays an important in the curriculum for students to learn about protocol, history, and the Molokai environment, according to Karen Holt, school principal.
Their kumu tied a kihei around the shoulders of the four students that they had each hand-painted, symbolizing status and maturity, according to Ho`omana Hou teacher Loretta Ritte. Students' parents bestowed a kukui lei around their necks in recognition of the knowledge they gained, and their grandparents placed lei po`o (head garlands) upon them. The lei po`o were gathered and woven by the students themselves from native rainforest plants, symbolizing patience, planning and spirituality.
Speaker Rapanot-McGuire reflected on all his class has been through and the good times they shared – "We will cherish the memories and laughs," he said.
Two of the four graduates are already enrolled in college, while the other two plan to apprentice in the electrician and mechanic trades, according to Holt.
The school's curriculum is based on Molokai's resources, focusing on the island's environmental and cultural heritage. It provides hands-on opportunities to learn academic skills in outdoor settings.
Ho`omana Hou is licensed and its credits are accepted by colleges and vocational schools in Hawaii and on the mainland. The school is now accepting applications for new students in grades 9-12; to apply, contact the Molokai Community Service Council at 553-3244 or mcsc@molokai.org.