Honoring Their Memory
Molokai honors fallen soldiers.
M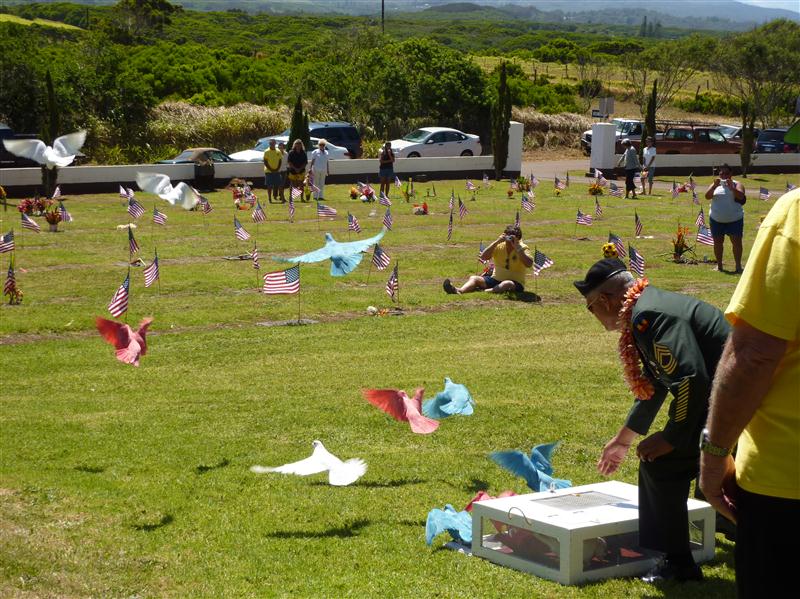 On the morning of Memorial Day, May 31, Molokai Veterans Caring for Veterans held a larger service attended at Ho`olehua Veterans Cemetery, where 179 veterans are laid to rest. Many headstones that morning were adorned with lei, bouquets and fruit, and at each grave site an American flag was planted and rippled in the strong breeze.
This was the first year the group held their service at the cemetery, which will also host their Veterans Day ceremony on November 11. Manuel Garcia, a Vietnam veteran who represents Molokai on the state's Veteran Advisory Committee, said the move was meant to bring the ceremony closer to the veterans.
"This is where our veterans are at… we came to honor these people here," Garcia said.
During the ceremony, Master Sergeant Samuel Makaiwi spoke about the sacrifice veterans and their families make. "Freedom is not free," he said, gesturing to the gravesites.
Makaiwi retired last week after nearly 40 years of service, including two years in Iraq. His son is currently on his second tour of duty in Afghanistan.
"We're there for a reason, so people in other counties can enjoy the freedoms we have and so we can sit here today with fear of being bombed," Makaiwi said.
Louella Albino also spoke at the ceremony. Her husband of 43 years, Donald "Butch" Albino, fought in Vietnam and passed away in April after battling cancer. Doctors told him the disease resulted from exposure to Agent Orange.
"He was one of the soldiers that came home with the war," Albino said.
While Memorial Day is only one day designated to recognize veterans, some think they should be acknowledged every day in one way or another.
"It could be just a simple aloha or talking story," Ed Panui, who attended the ceremony in Kaunakakai, said. "Veterans should be celebrated every day."