Honoring the Fight
As the lights at Kaunakakai Ball Park shut off and darkness fell across the field, the grounds were illuminated by a huge-circle of candle-lit luminaria lanterns at Molokai's eighth annual Relay for Life. Each lantern bag was decorated with names and pictures in memory or honor of a friend or loved one who has been affected by cancer. Family and friends surrounded the decorated bags that lined the track, many wiping away tears and holding on to loved ones, as the names of everyone listed on the luminaria scrolled on the screen during the ceremony.
"[The luminaria] represents the light we carry within ourselves for our loved ones that have been affected by cancer," said board member U`ilani Lima. "It represents the love we have for all of those who have left us, who have survived and who are battling this dreaded disease now. We light these luminaria in honor of their strong spirits."
More than 400 people attended this year's six-hour event Friday to walk the track honoring cancer survivors, remembering those that lost the battle and helping fight for a cure. The 30 participating teams, formed by families, businesses and organizations, sold T-shirts and food to raise money. Molokai's Relay for Life aimed to raise $22,500 and exceeded that goal with $25,000 before the event began, said Relay for Life community manager Pamela Webster. Webster said she anticipated another $1000 raised by the night's end.
Avette Ponce, event chair who works part-time as a cancer patient navigator for the Kukui Ahi Patient Navigation Program at the Molokai General Hospital, said she has a passion for helping others, which drove her to volunteer and organize this year's Relay event.
"Every year it's getting bigger and better and this is the largest Relay has ever been," Ponce said. "Even though we have separate teams on the field, we're all here for the same cause."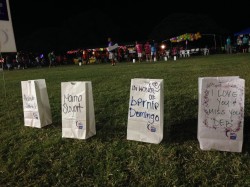 Funds raised go towards the American Cancer Society (ACS) and help provide resources and travel stipends for Molokai cancer patients to receive treatment on Oahu, Ponce said.
As the evening kicked off, cancer survivors took the first lap around the track, celebrating their victory over cancer while being cheered on by the other participants who lined the track. As guests of honor, caregivers and teams took turns walking or running around a track, family-friendly activities, games and live music kept everyone entertained and built camaraderie throughout the night.
"As we walk around…our spirits are the same and we have the same common thread of why we're here," said guest speaker and Maui County Councilwoman Stacy Crivello. "We are here to continue the fight to find the resolve in dealing with cancer."
Matildamargaret Davis, a breast cancer survivor who lives on Oahu, returned home to Molokai to surprise and support her Molokai High Class of 1978 friend, Berna Puhi.
"The feeling and all of the support is great," Davis said. "This is really awesome. I came here to support Molokai."
Puhi, an ovarian cancer survivor, said the support system Relay for Life offers to cancer patients, survivors and caregivers is the best part of the event.
"Coming out to support the loved ones that have left us is important," Puhi said. "It's good to have this support system and to raise the awareness. I'm very appreciative."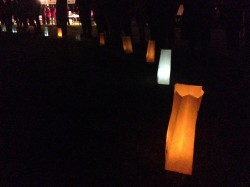 At Relay For Life, communities across the globe in more than 5,200 communities and 20 countries come together to help the ACS save lives from cancer. In the past, the overnight community fundraising walk lasted 24-hours, with teams camping out all night around the track. However, this year Molokai's event ended at midnight in a response to community feedback for a shorter event.
The Relay effort began in 1985, when Dr. Gordy Klatt, a surgeon from Tacoma, Wash., single-handedly changed the way the ACS raises funds by combining his passion for running and fighting against cancer. Klatt ran more than 83 miles for 24 hours and raised $27,000 to fight the disease. The following year, 19 teams joined him, and in 1994 a worldwide phenomenon was born making Relay for Life ACS's signature event, according to the ACS website.
Klatt passed away on Aug. 3, 2014 after battling stomach cancer, and Molokai dedicated its Relay in his honor. Molokai organizers plan to hold  next year's Relay for Life on Aug. 7.