Home Runs for a Good Cause
Holiday softball donates to athletics.
Christmas was in the air, as well as softballs. Alumni, old friends and family gathered Christmas weekend for the annual Molokai Softball Tournament. Along with happy reunions and ono barbeques, the event also benefited local athletics.
All of the entry fees paid by the 23 teams that participated will be donated to the alumni association and the Molokai High School athletics fund. The $300 tournament entry fee per participating team will help high school sports teams pay for travel off-island games.
"This is a great way for family and friends to see each other, said Melveena Starkey., one of the event's organizers."We always plan it around the holidays. And it's a great way to benefit the high school,".
Seven women's teams and sixteen men's teams participated.
Bragging rights were at stake, but more importantly, having fun was the primary concern at the 3rd annual event. The veterans prevailed and held their ground on the home turf, as the '90-'93 women's team won their bracket on Christmas Day, with a score of 15-1. The game was called early due to darkness.
The men's class of '89 proved they still had softball in their blood, as they beat the class of '01 in a close battle. They won 16-14 on Dec. 26.
Honda Paleka, class of '89, was proud of his team as they were crowned the champions of the men's bracket. They battled it out with the class of '01 on Dec. 26 for the championship. The younger guys beat them in their first game on the hot Sunday afternoon with a blowout of 32-16. But '89 came out in round two with a vengeance and beat '01 with a score of 16-14.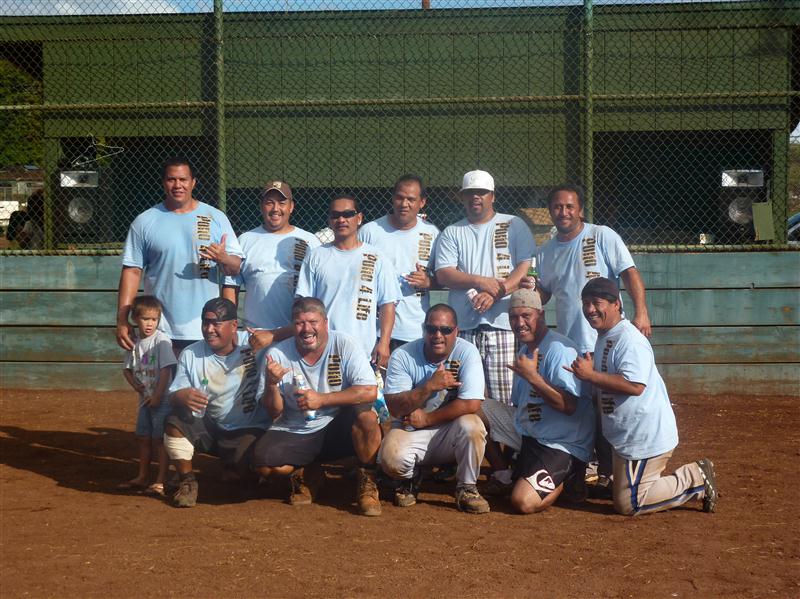 "This is a great way for the community to get together. My favorite part about this is just seeing old friends and having a good time," Paleka said.
Acts of generosity could also be seen on the field. Noel Motas, a Molokai native, picked up cans and other litter during the games. He'll donate some profits from the recyclables to the high school athletics fund.
"This isn't about me. This is about helping the community. I want to set a good example for the younger guys here. And to me, it doesn't matter who wins these games. It's about having fun," he said.
Starkey wants to especially give credit to Kapua Balas, Melani Rawlins and Salina Victorino for their efforts in putting the event together.