Home on the Range(r)
First Molokai woman protects Kalaupapa.
Even though she is one of just six female park rangers in all of Hawaii, Amy Sakurada doesn't feel special. After a tomboy childhood on Molokai, growing up with three older brothers, and playing four sports in high school, roughing it has always come naturally. Sakurada is now the first female park ranger and the second law enforcement ranger from Molokai serving at Kalaupapa National Park since 2006.
Growing up, Sakurada said she wanted to go into law enforcement, but it wasn't until she attended the University of Hawaii at Hilo that her interest in natural and cultural resource protection was sparked. Born and raised on Molokai, she said she was already familiar with the cultural richness of Hawaii.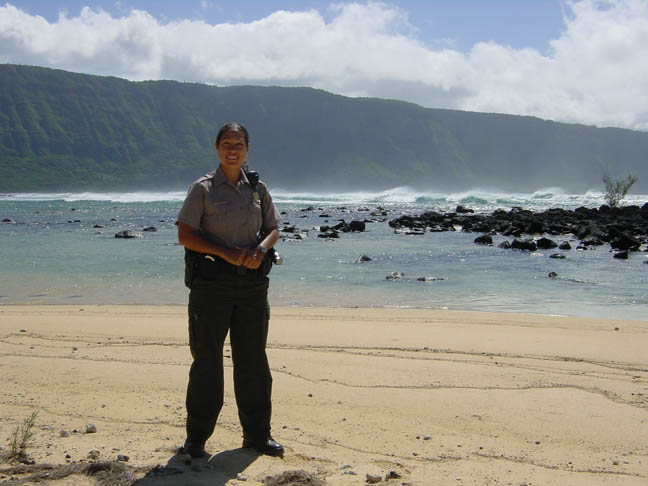 is a program to preserve for future generations."

All in a Day's Work
The duties of a Kalaupapa Park Ranger include law enforcement, structural fire and wildland fire inspection and response, emergency medical services, and search and rescue. Chief Ranger Tim Trainer said there are usually a couple of rescues a year on the pali trail due to injuries.
Sakurada said she is challenged on a daily basis to keep up with proper physical fitness. She hikes the Kalaupapa pali trail four days a week, plus additional treks on the ranger's safety checks.
"We have to be in top shape. We put our lives on the line every day," she said.
Even for someone in as good a shape as Sakurada, she said the trail can be overcoming at times. "It forces us to keep in shape. But after a long day at work, it's exhausting."
Sakurada said her biggest challenges are staying on top of new laws and regulations as well as the physical fitness. Jurisdictional authority is also challenging, between the different agencies: the National Park Service, the Department of Health, and the Department of Hawaiian Home Lands.
Sakurada attended the Federal Law Enforcement Training Center in Georgia last March, where Trainer, Sakurada's supervisor, said she was one of the top performers. She learned such skills as fitness, sharp shooting, defensive driving skills, federal law, preservation of a crime scene, court testimony, archaeological resource protection, firearms qualifications and emergency vehicle operations.
Rangers go through many training sessions every year, from physical fitness to law "refreshers." Twice a year rangers take a physical fitness test – a mile-and-a-half run, weigh lifting, and agility tests. Rangers also have an additional water pack test, wearing a 45-pound pack and walking three miles in 45 minutes.

A Long Journey
It hasn't been a short or easy road for Sakurada to get where she is today. She began her career in the park service while in college, when a roommate helped her get a seasonal job at Volcano National Park on the Big Island. She had learned about well-known national parks like the Grand Canyon, but said she wasn't familiar with Hawaii's until her first parks job. After she graduated college in 1998, she continued to work for the park service as a supervisory visitor use assistant.
In 2004, she decided she wanted to be a ranger, to protect the environmental and cultural resources she found so beautiful as a teenager. She paid for her own initial training in Santa Rose, California, and received a seasonal commission – the entry level credentials for park rangers. Training is similar to a basic police academy, she said. There is firearms training, federal law regulation for national parks, archaeological and environmental law, and interviewing techniques for court.
After her training, she began working at Pu'ukohola Heiau on Hawaii Island, one of the last major temples built in the Hawaiian Islands, constructed by Kamehameha the Great,.
She was offered the position at Kalaupapa in 2006.
"It was an easy choice to make. She's qualified at the top, high recommendations from her supervisors. And the fact that she's from Molokai is even better," said Trainer.
Sakurada has participated in a few career days at the high school and community outreach events to discuss her job. She said not many people know what a ranger does, and she'd like to see more people, especially young girls, take an interest in law enforcement in general.
"I can help young girls, and be a role model for the community," she explained.