At Home on the Homestead
Molokai family finally gets homestead land.
After 37 long years of waiting for Hawaiian homestead land, Judy Caparida still has a smile on her face.
"I'm the kind of person that whatever comes, comes," she said, standing in front of her new house in Ho`olehua. "We've had a lot of challenges, we've had plans, [and] then they don't work out. [We] let the Lord work it out for us."
One of the challenges Caparida and her husband Cappy faced was finding a contractor. After 35 years on the Department of Hawaiian Homelands (DHHL) wait list, they were awarded a lot in Ho`olehua – although they had requested a lot on Molokai's east side. Judy said officials told her they would not be awarding east side lots in her lifetime.
In the two years that followed, the Caparidas met with seven different contractors – but none could commit. Then they met Shannon Au, owner of Molokai-based Auco Construction.
Au said he normally does remodelings and refurbishments, but he builds about four houses a year from the ground up.
"Every time is different; I like to build for people and get to know them as friends," he said. When he met with the Caparidas, he said he fell in love with their story, and agreed to build their house.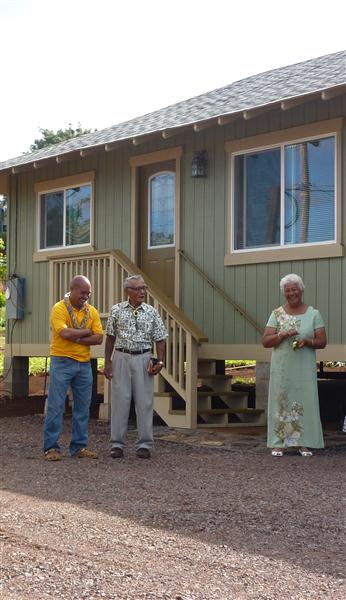 God, Jesus made it possible to make our home, for the future of our children," Judy said.