Holomua Junction Open for Business
"Holomua" means progress or successful advancement, and that's just what owners and tenants of the Holomua Junction business and office complex hope for the newly-renovated space. Located at the corner of Maunaloa and Kalae Highways, Holomua now holds two retail businesses — the Tobacco Shack and Beach Break — with more than half a dozen more spaces available to rent, according to land owners Diane and Larry Swenson.
Almost 30 years ago, the Swensons purchased 11 acres of property from Patterson Construction. The land has been previously home to the Holomua School in the mid-1900s. When the Swensons acquired the acreage, the building that now serves as the office for Swenson Real Estate occupied the property, and they built a warehouse for Larry's Swenson Construction. There, the company built tresses and other housing materials to save shipping costs of off-island suppliers. In 1996, the Swensons completed the long process of rezoning the land to light industrial — now one of two properties on Molokai with that designation.
Later, the building was used by Calvary Church, until about four years ago, said Larry.
"Since then, we've been trying to figure out what to do with the space," he said. They considered renting it as one large space, or dividing it into smaller units.
Smokin Good Business
A few years ago, Tobacco Shack owner Ka`ili Adachi approached the Swensons about renting the space when she was looking to relocate from downtown Kaunakakai.
"I saw a vision of what it could be and talked to them about it," she said. "We came up with a plan together… [the Tobacco Shack was] looking for a new location and we saw that place and decided to take a chance."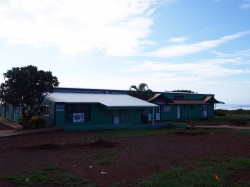 Larry said Adachi's business doubled since the move.
"That showed us it was good for retail," he said.
Adachi agreed.
"It's a perfect location in the middle of everything… It's been doing so good that we were able to open a second, sister location in town [Da Hot Spot]," she said.
Adachi said while they're known as a tobacco shop, she hopes to grow into an ABC store or 7/11 with drinks and snacks. Last year, the Tobacco Shack more than doubled in space, so there's not plenty of room to expand the business at Holomua.
The shop offers smoker's supplies and specialty tobacco products and accessories. Store hours are Monday through Friday from 10 a.m. to 4 p.m., and Saturday and Sunday from 10 a.m. to 2 p.m. Contact the Tobacco Shack at 567-6644.
Surf's Up
New to the block is Zachary Socher's surf shop, Beach Break. The business — which stocks surf and body boards and apparel, as well as furniture, clothing, jewelry and gifts — opened its doors last month. With one successful business, Blue Monkey, already thriving at Coffees of Hawaii, and taking cues from his parents Jonathan and Daphne Socher, long-time owners of Maunaloa's Big Wind Kite Factory, Socher took the leap and fulfilled his childhood dream of owning a surf shop.
"I'm excited to… provide quality gear to kids and adults of Molokai," he said.
Socher returned home with his wife, Wendy, four years ago after 10 years of living away. He jumped at the opportunity to open Blue Monkey gift shop a couple years ago as a way to support his family while living on Molokai. But he always kept an eye out for a good location for a surf store.
When he heard about Swenson's building being fixed up for rent, he started considering the possibility seriously. He said when he first walked into the space in 2012, it was dirty, piled high with wood, and the back of the structure was open — but he was enthusiastic.
The Swensons closed off the back and renovated the space, and after some delays, Socher opened shop in the 2500-square-foot space. About three times the size of Blue Monkey, Socher says the extra real estate gives him space to also house his printing equipment to offer high quality and larger-scale options on Molokai.
For Socher, it's all about finding ways to survive on the island.
"I just want to live on Molokai and surf and raise my family," he said.
Socher said he tries to keep prices as reasonable as possible. Right now, he's stocking locally-made, used surf boards, as well as body boards, soft-top stand-up boards, leashes, rash guards and skate boards. Traveling off-island for equipment is expensive for Molokai families, and so is shipping.
"Plus, [here] you get that hands-on experience — you get to touch it, feel it, and know what you're buying," he said. He said his goal is to "make this place like a real surf shop," recalling his wonderment as a kid visiting HIC in Oahu's Ala Moana Mall and seeing racks full of boards.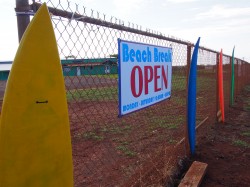 Because Molokai is a small market, he's expanding his inventory slowly, finding suppliers willing to fill orders of only a few boards at a time. Eventually, Socher said he hopes to carry paddling equipment as well.
In the meantime, he's enjoying "bringing boards back to the kids of Molokai."
"I sold a kid his first body board [recently] and it made me so happy," he said.
Beach Break is open Monday through Saturday from 10 a.m. to 4 p.m. "so I can surf in the morning and surf in the evening." Call the store at 567-6091.
Up for Rent
Larry and Diane Swenson said they hope to fill a variety of spaces with renters that could range from accountants or Internet sales to retail stores or arcades. They said they're open to anything, though restaurants are not permitted with the zoning restrictions.
"We hope to find a balance of tenants… that complement each other," said Diane.
They've already completed a long list of renovations to improve the property, repainting, including insulating the roof to keep the building cool, installing fire protection measures, replacing doors and windows, adding walls to create a variety of spaces available, and providing high speed Internet access. The Swensons are currently installing irrigation and landscaping.
With a goal of fostering local business, they said the rent is less expensive than in town and offers high visibility at a busy intersection.
"Everybody on the island has to drive by this corner," said Socher.
Adachi added that the Swensons are giving Molokai residents a chance to help grow the economy.
"People are afraid because it's new," she said. "But I hope [Holomua will] attract new, young, daring entrepreneurs."