Hokule`a: A Dream Come True
Community Contributed
By Matt Yamashita
There are some images from growing up that are forever imprinted in my mind. One of them is the sailing canoe, Hokule`a. A symbol for the Hawaiian cultural renaissance that began in the 1970s, this iconic wa`a kaulua, or double hulled sailing canoe, was often the topic of classroom discussions and local TV news during my childhood. I remember names like Mau, Nainoa, Eddie, Herb Kane, and Buffalo. All the crewmembers were legends. And Hokule`a, so celebrated as she sailed across the Pacific, was something almost beyond legend.
In my early years I would not have thought that I too would one day help unfurl her sails and steady her steering blade as she raced across the swells by day and night. But the possibility stood in my mind as a dream. This is why, many years later, when the invitation came to join Hokule`a on a trip from Kaunakakai to Kawaihae, I could not say no.
We left early Monday morning the second week of August. We had 14 crewmembers, six were from Molokai. Our kapena was Molokai's own sailing legend, Uncle Mel Paoa. The winds kicked up early and we opened sails just outside Kawela. Many of us had never opened a sail in our lives. When the sheet lines were attached and drawn tight and Hokule`a picked herself up and began cutting through the oncoming swells, it was pure exhilaration.
She was fast and smooth and when we hit the whipping winds and rolling swells of the Alenuihaha she showed us just how steady she was. She held course in the headwinds, outran our escort boat, and seemed to come alive under the starry night sky.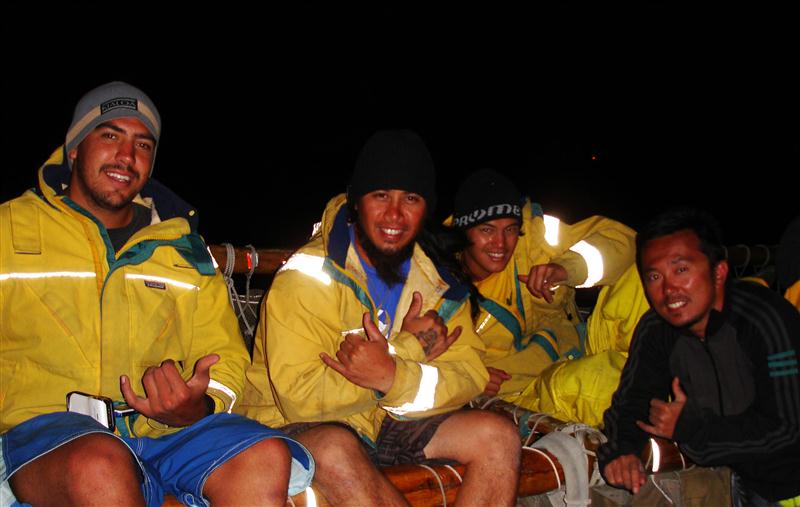 I remembered once being corrected for having referred to Hokule`a as "the Hokule`a," for implying that she was an object. I understand why now. Hokule`a is not simply a canoe, she is alive and her spirit is strong. As Uncle Maka would explain to me during our journey, when we are on the ocean, Hokule`a is our mother.
If Hokule`a was our mother, then I travelled with great brothers and sisters on that trip. My Hokule`a experience was most special because of those who travelled with me. There were some unforgettable moments… Keoki wrestling the bronco line in his malo; Kawika and Mahinahou holding course on the bouncing steering sweep across the Alenuihaha; my best friend Josh and I steering Hokule`a into Kawaihae as shooting stars filled the early morning sky.
While our 24-hour trip was far short of a voyage to Tahiti, for me, it was a voyage of a lifetime. Hokule`a continues to change lives and she has reminded me that dreams come true. She has also taught me that the images of our childhood become reality, so let us work hard to inspire our youth by giving them their own dreams to pursue.
I want to express deep gratitude to all who accompanied me on this journey, and to my wife and children who supported me in going. Mahalo to Uncle Mel and Uncle Maka for sharing your wisdom. Also, a deep thanks to the many, many individuals and families, from the legendary to the unknown, that have kept the dream of Hokule`a alive. And to you, Hokule`a, for sharing your mana. I am humbled, honored and grateful.