Ho`ailona Goes to School
Molokai's monk seal inches closer to surgery.
Ho`ailona is nearly three years old, and is already taking classes at the University of California Santa Cruz. His teachers have been giving him conditioning exercises, so medical checkups – which will be numerous considering his vision – will be easier and even fun. Ho`ailona is one of only 1,100 Hawaiian monk seals left in the world.
The veterinarians and marine mammal scientists working with Ho`ailona, formerly known as KP2, say his training is the same as a "very smart dog." He is still as curious as ever, checking out all areas of his pool and the deck, and interacting very well with his trainers.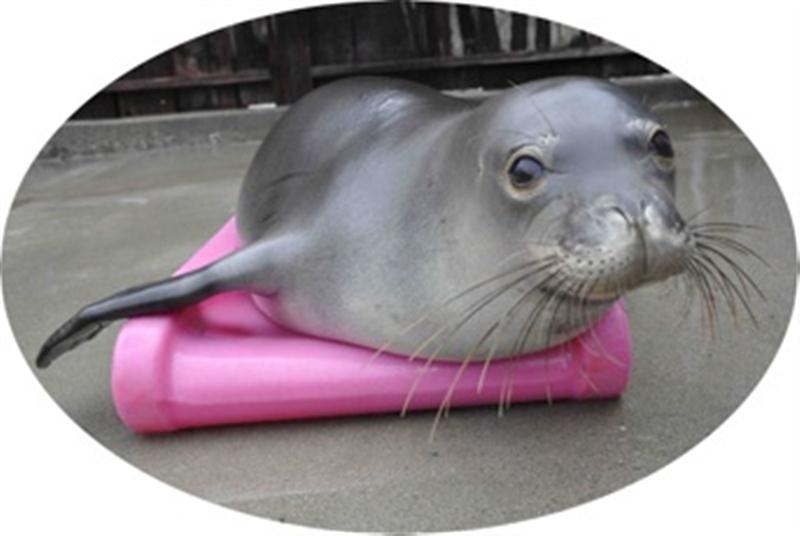 His trainers said on their website that he has learned a chin station and nose target, which points the seal to a specific location for him to touch. This helps him to be shown where to go and helps the trainer-monk seal relationship.
His journal, updated periodically on his website, says the seal has learned many more behaviors: entering the water upon request, staying in the water for trainers to enter and exit, and lying down. The new tricks allow scientists to more easily check Ho`ailona's eye health, temperature, weight and morphometrics (girth and length). The veterinarians are still determining whether eye surgery for the seal will be needed.
As for creature comforts, Ho`ailona has been listening to the Beach Boys and Hawaiian-style music, and enjoys playing with showering water from a hose according the online journal. Stay updated at http://www.monkseal.ucsc.edu/KP2/Home.html
Ho`ailona spent most of his life around Molokai, but was born on Kauai and abandoned within 24-hours. After a year of rehabilitation by the National Oceanic and Atmospheric Administration (NOAA), the monk seal known as KP2 was released on Molokai. After many months of bonding with residents in the Kaunakakai Wharf, NOAA attempted to place him in the Northwestern Hawaiian Islands but found he had cataracts. He was then sent to UC Santa Cruz for observation and possible surgery.