Hikiola Goes Solar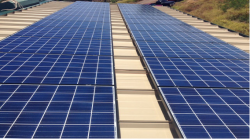 ProVision Solar News Release
The Hikiola Cooperative in Ho`olehua has installed a 12-kilowatt grid-connected solar array that will provide almost all of the power needed to run the coop.  First organized in 1976 as a farm supply and marketing cooperative, Hikiola shifted to making supplies available to both farmer-members and the greater community.  Paying one of the highest rates for electricity in the nation (52 cents/kilowatt-hour this month), small businesses on Molokai have more than ample incentive to go solar electric.
"We are thrilled with the installation of the PV system," said the Coop's long-time manager Tina Tamanaha. "The use of alternative energy is a positive step in our mission to lower the cost of supplies for our agri-business patrons."
Marco Mangelsdorf, President of ProVision Solar, and the installer of the Net Energy Metered photovoltaic system, noted that "with the abundant sunshine on this part of the island, the system should really crank out the solar kWhs.  We're really pleased to be able to work with Tina and the Coop to reduce their operating costs by going solar electric."
ProVision Solar, a Hilo-based solar electric provider since 1998, has worked extensively on the Friendly Isle, installing systems on the Molokai General Hospital, Friendly Market Center, Molokai Drugs, Kamoi Snack-n-Go, Kualapu`u School and a number of private residences across the island.
For more information, please contact Marco Mangelsdorf, 808 896-0750.