High-Scoring Farmers Fall Just Short
The Molokai High girls' soccer team made history Friday afternoon by becoming the first Farmers team to score multiple goals in a game during a 4-2 loss to St. Anthony. In a rematch on Saturday, the offense exploded again, this time netting a program-record three goals. Molokai couldn't quite pull out the win, but played their best game to date this season in the 4-3 loss.
Facing a 3-0 deficit at the start of the second half of Saturday's game, junior captain Chelsea Sakamoto gave Molokai the spark it needed. Sakamoto chipped around a St. Anthony defender and ripped a shot at lower right corner of the net to get the Farmers on the scoreboard. Seven minutes later, Sakamoto found herself alone at the top of the goalie box again. This time she pushed one just over the hands of the Trojans' goalkeeper.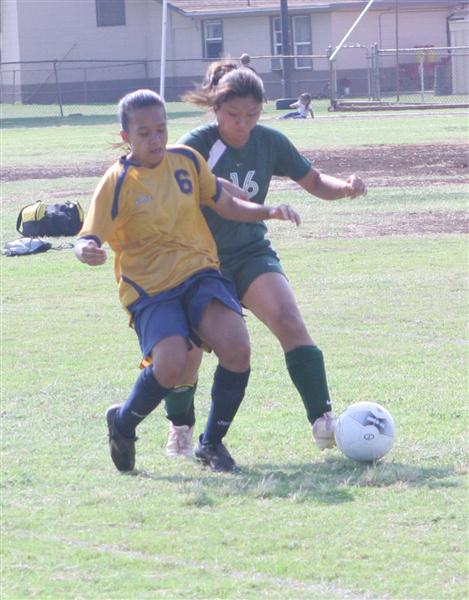 are doing really well. Those are our top players and they're really working together well with the team."
Sakamoto also scored in Friday afternoon's 3-2 loss. Villa had the other Molokai goal in Friday's game and also picked up two assists on Saturday. Senior Melody Ocampo added two assists of her own in Friday's game.
The pair of losses dropped Molokai to 0-10 on the season with four games remaining on the schedule. The team will take a week off before traveling to play Maui High School on Jan. 22 and 23.
"This makes the girls feel a lot better about their season," Shelton said. "We have one more home game coming up that should be just as competitive as this."
Molokai finishes its season at home with a pair of games against Seabury Hall on Jan. 29 and 30.