HI Finest Comes Home
Community Contributed
By Paulele Alcon
Well last week I came home and opened up a small shop in my dad's insurance office to offer the island an official location to pick up the newest HI Finest Gear – 75B Ala Malama in Kaunakakai Town. I just wanted to set a location and time where the island can go to and fetch the newest gear. I had gotten a few offers to sell my gear out of some stores on Molokai but I chose not to because I wanted Molokai to feel special, like they were getting HI Finest from the source, somewhere where I can get direct feedback from the community about what they think about HI Finest. It also allows me to offer HI Finest at the lowest possible price without anyone taking a cut from my hard work.

For HI Finest and its future on Molokai, I plan on continuing to build the brand and products and offer them in the HI Finest store. I also have a whole bunch of concerts already in the works for the island, as well as community events to help bring awareness to the kids and youth of Molokai that anything is possible if you put your mind to it. I'm also putting together some fun events such as a Kick Ball Tournament to bring some memories to the island. I ultimately want to share with the island the things HI Finest are doing on Oahu.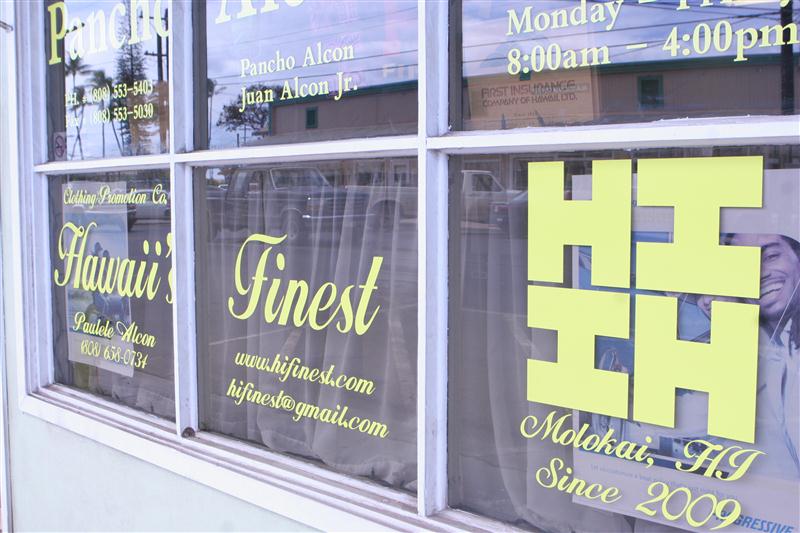 Our HI Finest goals are ultimately to be Hawaii's top local brand in the fashion industry, as well as the top promoting company in Hawaii offering local/reggae concert and events. I feel we have the ideas, network, resources, and drive to do so and I am pretty determined to reach it. Ultimately we want to see HI Finest around the entire state as well as on locals outside of Hawaii. We just want people to be proud to be from Hawaii and strive to be the best they can be. We have a whole lot going on – three weekly events at the Shack Waikiki (the top bar/club in Hawaii), a couple huge concerts coming up in Oahu, Kona, Molokai, and we're about to take a dip into the music industry on the management side. We also have our gear available in Sears Ala Moana, Razors Pearl Ridge, and No Fear Windward, Kapolei, Haleiwa. We are also building an online store (www.HIFINEST.com) so the rest of the islands and the world are able to pick up some gear.

History of HI Finest
HI Finest was started in December 2009 by myself, Paulele Alcon. I soon partnered with my best friend Byron Tagupa and had help from family, friends and especially my parents, Pancho and Ella Alcon. Byron and I were both born and raised on Molokai and are Class of 2002 graduates. We both graduated from the University of Hawaii in 2007 and always dreamt of doing this. From the start we have produced over 50 different designs and color and over 6,000 pieces of shirts and hats. HI Finest was brought into the promoting industry by our dear friend Micah G and now promotes out of Shack Waikiki and has been a major part of a bunch of huge concerts and events on Oahu and Molokai and soon the rest of Hawaii. HI Finest are worn by top music bands such as Katchafire, The Green, Hot Rain, Fiji, Mana`o Company, Micah G & More, and by top fighters, body surfers, body boarders, surfers, UH athletes, and pro football players – the list goes on. We plan on continuing our journey in the fashion and entertainment industry here in Hawaii and want to someday, near in the future, be at the top.

We are so proud to call Molokai home and will ensure to always keep Molokai tightly in the loop of all things we do. Please stop by the shop and support HI Finest as well as stay updated to what we are up to by checking out HIFINEST.com, as well as becoming our friends on Facebook (Hawaii's Finest). We like to thank our family and friends as well as the entire island for the support. There is no place like Molokai — the support the island has shown is hands-down second to none.

HI Finest is open Monday-Friday 8-4 and certain Saturdays 8-12 when new gear arrives.