He's Going To Be a Contender
One of Molokai's favorite local sons, Ekolu Kalama, is hitting the waves again for the Stand Up World Tour 2010. Sunset Beach Pro on the North Shore of Oahu starts on Feb. 6 and the trials go until Feb. 14.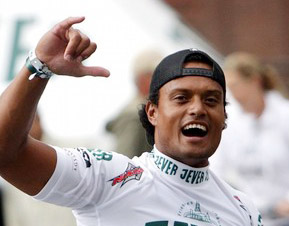 Before this year's world tour started, the Waterman League hosted Hinano's 'Stand Up World Tour Contenders,' where Kalama and others participated in an exhibition contest in Teahupo`o, Tahiti late last year. Amongst some of the most challenging conditions in the world, Kalama was voted the winner of that contest and set the level of judging for the world tour.
Last July, Kalama won the 32-mile Rainbow Sandals Molokai to Oahu Paddleboard Race Stand Up Paddle division, his first solo win. He also beat the previous world record by an hour, clocking in at 5:02:06.
More information can be found at the Waterman League's website, http://watermanleague.com/index.php?option=com_content&view=section&layout=blog&id=2&Itemid=41
Good luck Ekolu!