Heritage Rodeo Ropes in the Fun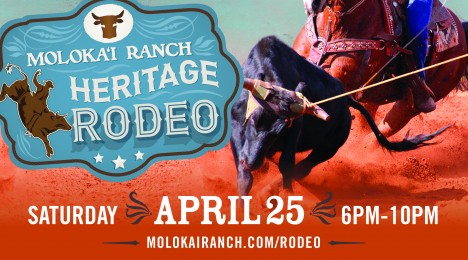 Molokai Ranch News Release
Molokai Ranch will be hosting the Molokai Ranch Heritage Rodeo on Saturday, April 25 from 6 to 10 p.m. at Molokai Ranch, located on the west end of Molokai.  As one of the largest rodeo events of its kind in the state, the Heritage Rodeo attracts professional riders and rodeo enthusiasts from all over Hawaii to share in the cultural heritage that demonstrates island style hospitality.
In addition to the wide range of rodeo festivities, there will be a special live performance by Hawaii music icons and Grammy Award-winning artists Henry Kapono, John Cruz, and Brother Noland, who together call themselves the "Rough Riders." Bringing to the stage their well-honed craft and vocal power, these three inspiring songwriters have been charming audiences with their distinctive voices and perfect blend of guitars.
"We are sharing our vision for the future, authentic hospitality that honors the talent, history and beauty of Molokai," said Clay Rumbaoa, CEO of Molokai Ranch. "This year's rodeo and concert will be a night to remember for participants, families, and our generous sponsors, as well as a much-needed economic boost for the local community."
Molokai Ranch has taken an active role in working toward sustainability, being proactive in pursuing their established pillars of Animal Husbandry, Authentic Hospitality, Renewable Energy and Sustainable Farming.  The Molokai Ranch Heritage Rodeo key sponsors this year are Bank of Hawaii, `Ohana by Hawaiian Airlines, Hotel Molokai, and OrangeRoc Marketing and Creative Services.
For more information or to be a part of this year's Molokai Ranch Heritage Rodeo as a sponsor, contestant or a spectator, visit molokairanch.com/rodeo or facebook.com/molokairanch. Pre-sale tickets will be available for reservation online at molokairanch.com/tickets.
Molokai Ranch is Hawaii's second largest ranch, spanning 55,000 acres of beach and countryside. The Ranch has a long and proud history on the Friendly Isle since its founding more than a century ago. For more information, visit molokairanch.com.