Henry William Kawailani Kanawaliwali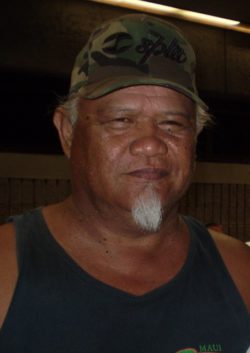 On Sept. 11, 2020 our Lord decided it was time for Henry William Kawailani Kanawaliwali to return to him. Henry is survived by his wife Velma Momilani Kanawaliwali; his children, Henry N Kanawaliwali, Erin M Bentley, Lawrence K Kanawaliwali, and Kayla H K Urban; 10 grandchildren, Gaela Joi, JanVier, Eli, Jasmine, William, Jahsiah, Kaohele, Alyah, Kalapana and Maile; three sisters Helen O'Connor, Joyce Dillon and Eden Castillo; one brother, Newton Kanawaliwali; and many nieces and nephews.
Henry was raised in Ho'olehua, Molokai. Growing up he learned farming, fishing (diving) and hunting. Raised down in Mo'omomi, his favorite place on Molokai, he became a great fisherman/diver. He has been a great provider for his family and passed on his trades to his children, grandchildren, nieces and nephews. Henry worked as a mason for many years amongst other trades he has mastered. He was a quiet man, and had a big heart, stern in his ways, but was always there to help anyone. He loved being a grandfather. He is greatly loved and missed.
Services will be held at a later time due to COVID-19.