Help Sought Locating Distressed Monk Seal
NOAA News Release
Monk seal advocacy groups are asking for the public's help to locate a sick and severely malnourished Hawaiian monk seal known to frequent the Kalaupapa area in the county of Kalawao, Molokai. Experts are concerned about her health and want to bring the seal to Oahu for assessment and treatment at the Waikiki Aquarium. The seal would be returned to Kalaupapa after recovery.
"The seal we are looking for would appear ill and its ribs or other skeletal features would likely be visible. We are asking people to keep an eye out for this seal in the water or on the beach," explained Pat Wardell, President of the Monk Seal Foundation, a Hawaii based organization that recently took over management of the monk seal volunteer program on Molokai.
"If found the seal would be airlifted to Oahu where veterinarians can conduct a health assessment and treat any medical conditions. When the seal recovers, it will be returned to Molokai," stated David Schofield, NOAA Fisheries Marine Mammal Response Coordinator.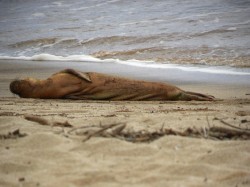 The seal is a female yearling known as RL26. She was born in Kalaupapa in 2012.
Public cooperation is essential to monk seal recovery. "We urge the residents of Molokai to help locate this seal," asked Trisha Kehaulani Watson, the Hawaii representative for Marine Conservation Institute. "We have seen how public cooperation and timely treatment can be the difference between life and death for monk seals that are in distress."
The groups have provided a photo of the seal, in which it appears severely malnourished and ill. Anyone that locates this seal or has information on its whereabouts should contact the NOAA Fisheries Monk Seal Hotline at 1-888-256-9840.